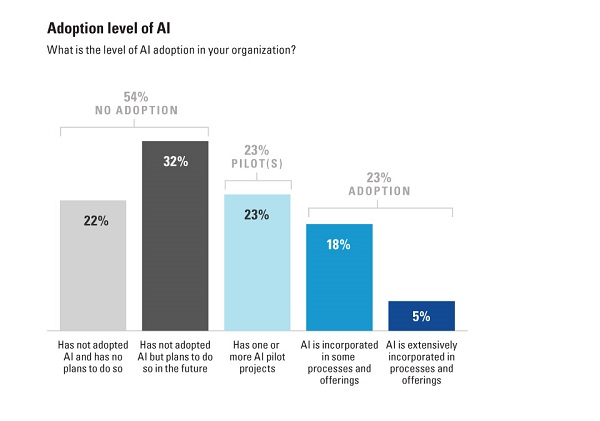 Chances are you have already been bombarded on social media or in your inbox about all these "revolutionary AI" this and "game-changer AI" that.
Vendors of AI technology are often incentivized to make their technology sound more capable than it is – but to hint at more real-world traction than they actually have. Yes the broader dynamics of how AI can be applied in business are rarely discussed in depth. In this article we'll take a "helicopter view" of AI's progress (and sometimes, lack of progress) in enterprise, and whether or not adoption is the right thing for your business.
This article is based on a presentation delivered by Daniel Faggella, TechEmergence CEO, for the Technology Association of Georgia's data science event in Atlanta. The findings and opinions in this presentation are based on interviewing and surveying hundreds of AI company founders, and also dozens of interviews with CEOs of hands-on AI consulting companies.
The short story is that AI is being hyped, and that its potential in business is still for the most part experimental. Though there is a genuine sentiment that AI will transform industries, the actual applications and projects that will deliver that value is mostly unknown, and business leaders need to think strategically about where AI may – of may not – make a difference for their company.
By the end of this article you'll have a better idea of AI's current applications and limitations – and most importantly – you'll have a framework for thinking about where AI might have promise for your company.
The Relevance of AI for the Enterprise
The reason it is important to look into AI in terms of business use is that it is very possible that it will likely overhaul entire industries in the next 15 years. Industry researchers do not always come to a consensus, but the one thing they do seem to agree on is that AI and machine learning will – in the decades ahead – drastically change how business is done.
Through either automation or augmentation, it seems clear that AI will alter "work" as well know it, and much like the internet 20 years ago, AI is a technology factor that must be on the radar of business leaders who are considering the long term.
People with a rudimentary familiarity with AI will not be surprised to learn that artificial intelligence applications are not necessarily a novelty of the 2010's. AI's first push into the business world (famously through so-called "expert systems") began in the 80s, and primarily consisted of hard coding human intelligence into rules and steps.
Read the source article at techemergence.com.