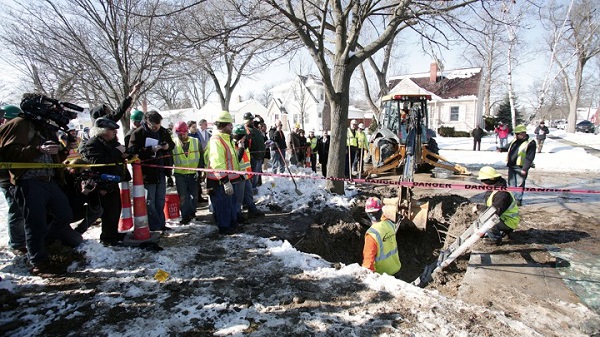 More than a thousand days after the water problems in Flint, Michigan, became national news, thousands of homes in the city still have lead pipes, from which the toxic metal can leach into the water supply. To remedy the problem, the lead pipes need to be replaced with safer, copper ones. That sounds straightforward, but it is a challenge to figure out which homes have lead pipes in the first place. The City's records are incomplete and inaccurate. And digging up all the pipes would be costly and time-consuming.
That's just the kind of problem that automation is supposed to help solve. So volunteer computer scientists, with some funding from Google, designed a machine-learning model to help predict which homes were likely to have lead pipes. The artificial intelligence was supposed to help the City dig only where pipes were likely to need replacement. Through 2017, the plan was working. Workers inspected 8,833 homes, and of those, 6,228 homes had their pipes replaced — a 70 percent rate of accuracy. Heading into 2018, the City signed a big, national engineering firm, AECOM, to a $5 million contract to "accelerate" the program, holding a buoyant community meeting to herald the arrival of the cavalry in Flint.
Few cities have embarked on a pipe-replacement program nearly as ambitious, let alone those that have to deal with the effects of segregation, environmental racism, and the collapse of industry in the upper Midwest. In total, 18,786 families in Flint now know that their pipes are safe, because the City has either dug them up and confirmed that they're copper or replaced them if they were made of lead or galvanized steel. "I think things have gone extremely well," Flint Mayor Karen Weaver told me. "We're a year ahead of schedule and under budget."
But something strange happened over the course of 2018: As more and more people had their pipes evaluated in 2018, fewer and fewer inspections were finding lead pipes. In November 2017, according to meeting notes obtained by local news outlet MLive's Zahra Ahmad, the city's head of public works estimated that about 10,000 of Flint's homes still had lead pipes, roughly in line with the number other experts have floated. The new contractor hasn't been efficiently locating those pipes: As of mid-December 2018, 10,531 properties had been explored and only 1,567 of those digs found lead pipes to replace. That's a lead-pipe hit rate of just 15 percent, far below the 2017 mark.
There are reasons for the slowdown. AECOM discarded the machine-learning model's predictions, which had guided excavations. And facing political pressure from some residents, Weaver demanded that the firm dig across the city's wards and in every house on selected blocks, rather than picking out the homes likely to have lead because of age, property type, or other characteristics that could be correlated with the pipes.
After a multimillion-dollar investment in project management, thousands of people in Flint still have homes with lead pipes, when the previous program would likely have already found and replaced them.
The declining success of the pipe-replacement program has caused critics of the City to raise the alarm. The Natural Resources Defense Council (NRDC), which represents a community group called the Concerned Pastors for Social Action, has argued in court that the City has abrogated its court-ordered mandate to get the lead pipes out as quickly as possible. If there are still thousands of homes with lead pipes and the City is doing thousands of excavations, how hasn't it found more of them? "It's the number of lead pipes removed that matters, not the number of holes dug," said Pastor Allen C. Overton, a member of Concerned Pastors for Social Action, in an NRDC statement.
Before things got ugly, the effort to pull the lead pipes out of the ground was shaping up to be a high-tech feel-good story. At Google's AI for Good conference in October, the Georgia Tech computer scientist Jacob Abernethy described how a team of volunteers built the system to predict which homes were most likely to have lead pipes.
Read the source article in The Atlantic.