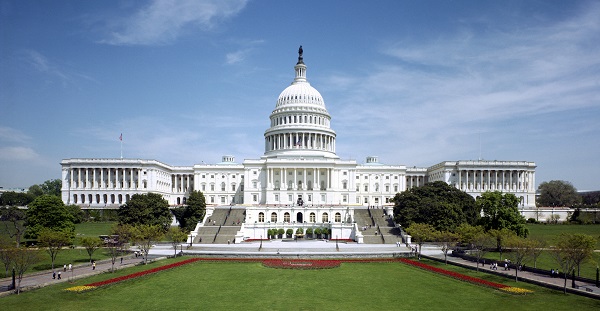 By AI Trends Staff
More than $2 billion in federal spending and several policy initiatives are the cornerstones of a new bipartisan bill that would create a government strategy for developing artificial intelligence technology.
The Artificial Intelligence Initiative Act is the latest legislation to emerge from the new Senate AI Caucus, which is one of several congressional and executive branch groups focusing on the topic, as reported in fedscoop. Two founders of the caucus, Martin Heinrich, D-N.M., and Rob Portman, R-Ohio, are joined by another member, Brian Schatz, D-Hawaii, in sponsoring the bill. Filed on May 21, it aims to "organize a coordinated national strategy for developing AI" to the tune of $2.2 billion in federal investment over the next five years.
The provisions include:
Establishing a National AI Coordination Office to coordinate federal AI efforts.

Asking the National Institute of Standards and Technologies to establish standards for testing AI algorithms and their effectiveness.

Getting the National Science Foundation to set "educational goals" for things like data bias, privacy, accountability and more.

Requiring the Department of Energy to build an AI research program for government and academia.
"In order to take full advantage of AI technology, we have to invest in it," Schatz said in a statement. "Our bill will give researchers and innovators the resources to study and further develop AI technology so that we can use it in smart and effective ways."
Statements of support for the bill came from technology leaders including units of Amazon, IBM, Microsoft, the University of New Mexico, New Mexico State University and Carnegie Mellon University.
The idea of a national AI strategy has been popular in recent months. And in December 2018 the Center for Data Innovation released a report arguing that "absent an AI strategy tailored to the United States' political economy, U.S. firms developing AI will lose their advantage in global markets and U.S. organizations will adopt AI at a less-than-optimal pace."
Meanwhile, Still Time to Weigh In on Government AI Standards
The Trump administration is giving the public more time to weigh in on a national framework that would guide the growth of artificial intelligence in the coming years.
The National Institute of Standards and Technology on Tuesday extended the deadline for submitting comments on technical standards the government should consider for advancing AI technology. Proposals were originally due May 31, but groups now have until June 10 to offer up their ideas, according to an account in Nextgov.
NIST granted the extension to accommodate "multiple interested parties" who wanted extra time to draft their frameworks, according to a post in the Federal Register. The agency has received 35 comments so far and expects more to trickle in over the next few days, NIST spokeswoman Jennifer Huergo told Nextgov.
Under its executive order on advancing artificial intelligence, the Trump administration charged NIST with exploring technical standards the government could put in place to support "reliable, robust and trustworthy" AI tools. Ultimately, NIST plans to use the comments it receives to help the government ensure the tech is developed responsibly and maintain the country's edge in the global race for AI dominance.
Over the last decade, the government has largely permitted artificial intelligence to develop unobstructed by federal regulations or standards. While the tech advanced significantly under this hands-off approach, critics are now questioning AI's impact on privacy and civil liberties, as well as the transparency and security of its underlying algorithms.
NIST is expected to release a draft plan for federal AI standards around mid-August