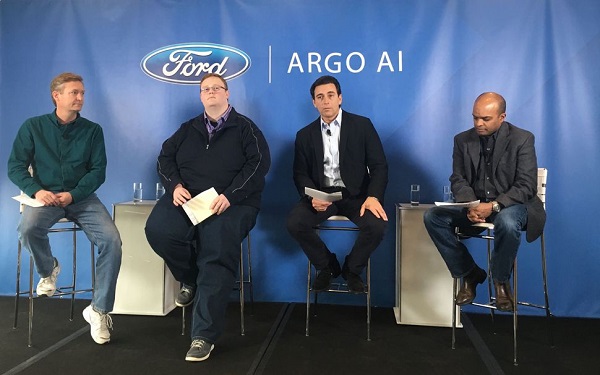 Ford has announced it's investing $1 billion over the next five years in Pittsburgh-based artificial intelligence startup Argo AI. Let's try to make sense why the carmaker is willing to drop 1 followed by a ton of zeroes to develop a car technology.
What Ford Will Get Out Of The Deal With Argo AI
Ford is looking to roll out an autonomous vehicle in 2021 and it is tapping Argo AI to develop a virtual driver system that will allow its so called look-ma-no-hands vehicle of the future.
"The next decade will be defined by the automation of the automobile, and autonomous vehicles will have as significant an impact on society as Ford's moving assembly line did 100 years ago," said Ford President and CEO Mark Fields in a statement. "As Ford expands to be an auto and a mobility company, we believe that investing in Argo AI will create significant value for our shareholders by strengthening Ford's leadership in bringing self-driving vehicles to market in the near term and by creating technology that could be licensed to others in the future."
The virtual driver system, translated into English, will be the brain of the self-driving car. This car technology will help the car "learn" so it will not crash into other vehicles, slam into walls, or hit pedestrians. These so-called skills of the software will, of course, be dependent on hardware components such as cameras and sensors and so on that Ford will focus on.
Ford has a team of experts developing this software and this team will collaborate with the robotics talent and expertise of the people from Argo AI. The car manufacturer is hoping that this move will up the chances of bringing its SAE Level 4 self-driving cars to consumers as scheduled.
"Working together with Argo AI gives Ford a distinct competitive advantage at the intersection of the automotive and technology industries," said Ford chief technical officer and executive vice president for global product development Raj Nair.
Read the source article at techtimes.com.