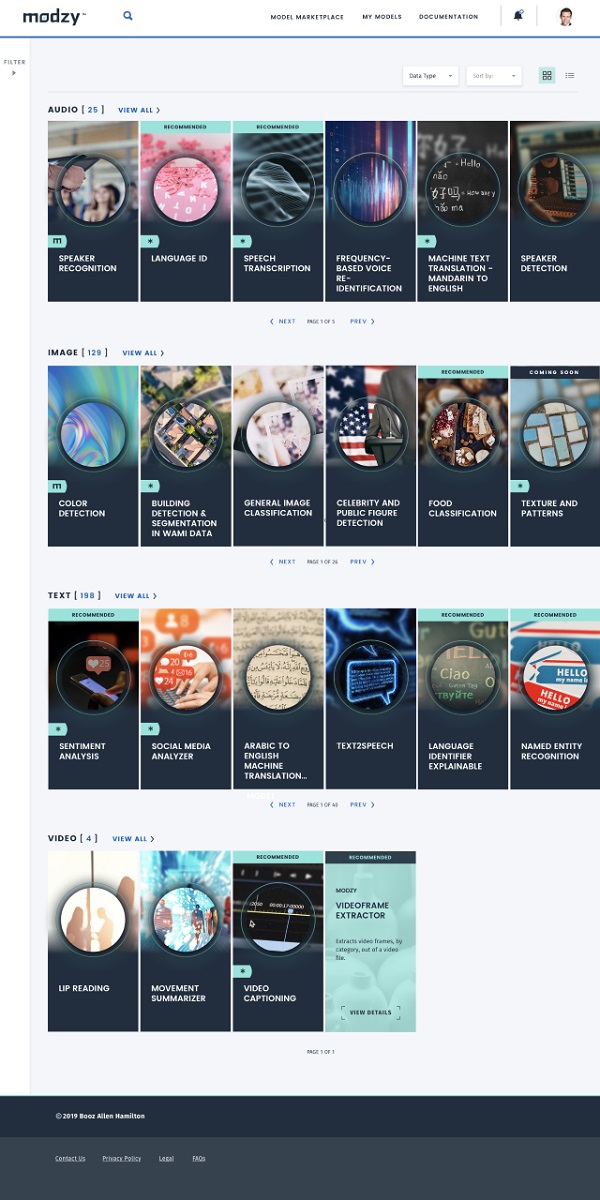 By AI Trends Staff
The consulting firm Booz Allen has announced Modzy, a product aimed at accelerating the deployment of AI applications in the enterprise. The company has assembled AI models from its own experience, from open source communities, and technology partners. Modzy provides an environment for the models to be uploaded, managed, and deployed.
This is said to address barriers related to scaling AI to the enterprise by: providing a marketplace of pre-trained AI models; enabling data scientists and software engineers to more quickly integrate AI into applications; abstracting data pipelines and machine learning development frameworks from the models; giving administrators control of how models are deployed and governed; providing model transparency and early-stage explainability; being able to deploy AI on any on-premise or cloud-based infrastructure; employing patent-pending adversarial defensive techniques that filer poisoned data; and evaluating model vulnerabilities.
The product is to be ready for general availability in the spring of 2020. Customers can request access to the Modzy Early Access Program today.
Dr. Josh Sullivan, Senior VP of Booz Allen and a Modzy executive leader, said in the release, "Achieving the promise of AI is much more than training the next algorithm. It's about giving organizations choice and having a predictable and repeatable way to rapidly deploy, manage, and secure AI models at enterprise scale. With Modzy, Booz Allen is challenging the idea that AI has to be custom-built for each department, project or purpose. By combining our deep domain and technical expertise with that of other leading AI providers, we're helping the US government and companies deploy AI at a fraction of the price and time required to build models from scratch."
A Briefing Note from Cognilytica Research on Modzy cited these challenges to scaling AI in the enterprise: lack of trust in models; limited consistency in model creation; lack of governance for model usage and best practices; and security threats to model usage. AI and Machine Learning Operations, or ML Ops, it described as being focused on the consumption-centric aspects of machine learning model usage and deployment, as opposed to model development.
The core aspects of ML Ops Cognilytica describes as: model discovery, model governance, model versioning, model monitoring and management and model security.
Cognilytica stated, "The market for ML ops tools and solutions is just now starting to emerge, and in this space, Booz Allen's Modzy offering is filling this gap."
Analysts at IDC maintains that the market for pre-trained, domain-optimized and "ready to use" AI and ML models is growing rapidly. In a market note on Modzy, IDC wrote, "Booz Allen is taking advantage of this trend in the market where companies want to transform and differentiate their businesses with AI-based offerings but don't want to spend years developing and training their own algorithms."
IDC credited Booz Allen with furthering an AI models market. "Modzy is one of the first AI/ML model marketplaces to emerge in the AI software platforms market. While Google, IBM, Microsoft, Amazon and others have pre-trained cloud-based AI/ML models available for sale, none of them have the concept of an open marketplace where other companies can also sell and offer their AI/ML models. The jury is out on how effective this approach may be, but it is a worthy goal to aim for."
Hypergiant Industries, offering AI products and consulting services, has contributed models to the Modzy marketplace. Ben Lamm, CEO and founder of Hypergiant, is quoted in the Modzy release: "The Modzy platform is one step closer to ensuring that the government has the technology it needs to protect the American people. We are thrilled to apply our advanced AI capabilities to the marketplace."
Learn more at Booz Allen.