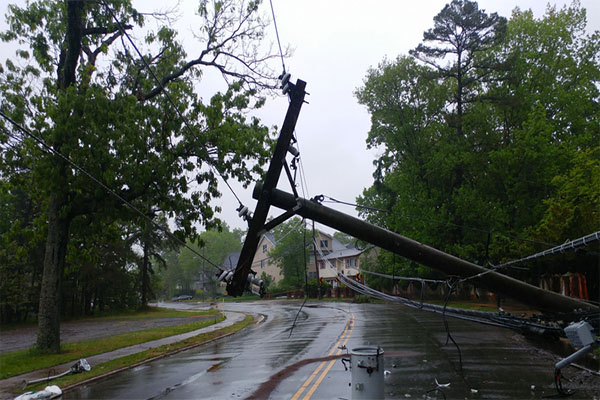 By Deborah Borfitz
Every community in the country includes people for whom electricity is literally a life-or-death matter—including individuals who receive dialysis because their kidneys stopped working and those who rely on an oxygen concentrator or ventilator to help them breath. A power outage can be a life-threatening event in a matter of hours for some medically fragile people, especially if backup batteries fail.
The increasing frequency of natural disasters—most notably Hurricane Sandy in 2012—heightened awareness of electricity dependency as a new social determinant of health, says Kristen Finne, director of the emPOWER program of the U.S. Department of Health and Human Services (HHS) and senior program analyst in the Assistant Secretary for Preparedness and Response's (ASPR) Office of Emergency Management and Medical Operations.
The federal response was to painstakingly map the location of at-risk populations, down to the ZIP Code level, so public health officials could find them and factor them into their emergency preparedness plans. A publicly available HHS emPOWER Map is also now in continuous use by over 54,000 individuals, says Finne.
The data have been used in hundreds of disasters nationwide, including tornadoes and hurricanes. During the 2016 Great Smoky Mountains wildfires, the emPOWER map helped Tennessee public health authorities and the National Guard identify 70 oxygen-dependent seniors in a plume area at heightened risk of breathing difficulties and death.
The focus of the emPOWER program are individuals who can reside independently in the community provided their life-maintaining or -saving medical equipment has a power source, as well as those requiring healthcare services such as oxygen tank delivery, home health nursing or dialysis in a facility—needs that would "put them at risk very quickly in a disaster," Finne says.
Rapid technological advancements and changes in healthcare service delivery over the past dozen years has enabled their transition from an inpatient residential facility to independent living supported by a community-based model of care, she continues. The at-risk population has been growing in lockstep with the fast-growing baby boomer age group. Even with advance notification of an impending disaster, supporting and evacuating those power-dependent seniors takes time, Finne says.
Proof of Concept
As early as 2003, it was being reported that individuals were showing up in emergency rooms (ERs) in the aftermath of a natural disaster simply to gain access to power for their ventilator or oxygen concentrator or to obtain a tank of oxygen, says Finne. By early 2012, health officials were routinely communicating to HHS that hospitals were being overwhelmed by people they couldn't accommodate, hampering efforts to take care of disaster-related illnesses and injuries. Many emergency managers were also struggling to address the power demands of those with electricity-dependent medical and assistive equipment in emergency shelters.
They had no way of knowing these individuals were living in their community, let alone their street address, because they didn't have any data, Finne says. "They were really struggling to prepare and understand the needs [of at-risk populations]."
Finne was part of a study testing the idea of using Medicare claims data to identify vulnerable individuals and understand their access and utilization patterns during a power outage by looking at what happened as Hurricane Sandy was making its U.S. landfall. A key discovery, published in the American Journal of Kidney Diseases, was that pre-landfall treatment provided dialysis patients with a protective health buffer, allowing them to avoid trips to the ER that they would otherwise be making within three days post-outage if their dialysis facility was unable to reopen. With prolonged power outages, electricity-dependent individuals were also starting to die because emergency managers were unaware of their whereabouts and need.
ASPR subsequently formed a strategic partnership with the chief medical officer at the Centers for Medicare & Medicaid Services (CMS) to figure out how to use Medicare claims data to help protect health and save lives while staying within bounds of the Health Insurance Portability and Accountability Act (HIPAA), says Finne. Meanwhile, pressure mounted to come up with answers in the aftermath of Hurricane Isaac storm surges in New Orleans that involved mass evacuations.
HHS policy was ultimately amended to allow Medicare claims data to be used by public health officials, and to give them access to the claims before they were run through the lengthy adjudication process, Finne says. The information needed to be timely enough for first responders to save lives, not needlessly put them in harm's way.
In June 2013, during a disaster simulation exercise in New Orleans, teams of HIPAA-trained personnel at the local and federal level began knocking on doors to confirm Medicare data could accurately identify individuals on an oxygen concentrator or ventilator. As reported in the American Journal of Public Health, the information was correct 93% of the time—a figure later replicated in a larger population concentration in upstate New York.
The local New Orleans electric company's registry intended to identify the power-dependent wasn't working as well, says Finne, noting that only eight of the 611 identified individuals were registered. Similarly, only 15 were on a special needs registry required after Hurricane Katrina. The simulation exercise revealed that over half of the 611 would need assistance in an emergency.
Despite public communication efforts to encourage registration, a significant number of those visited indicated they were unaware of the opportunities, continues Finne. Gaps in the registries has a lot to do with health literacy issues—e.g., people calling their oxygen concentrator a "breathing machine" and inadvertently being disqualified.
Deidentified datasets were created from privacy-protected Medicare information and provided to state and public health authorities, who in turn shared the information with their designated partners to do targeted planning for electricity-dependent populations, she says. A new, updated dataset is now provided monthly to all 50 states, five territories, and four metropolitan areas that participate in the ASPR Hospital Preparedness Program.
All told, the emPOWER program is protective of 4.1 million Americans, 2.5 million of whom depend on 14 types of life-maintaining or -saving medical equipment and cardiac devices, says Finne. The remaining 1.6 million Americans rely on facility–based dialysis services or home oxygen, healthcare or hospice services, rendering them similarly at risk during an emergency.
Use Cases
Emerging partnerships between state and local public health officials, community organizations and concerned citizens to ensure the safety of electricity-dependent Medicare beneficiaries was the catalyst for creation of a publicly available emPOWER Map providing a total count of their number—at the state, territory, county and ZIP Code levels. The goal was to provide communities with the "right data in the right tool to the right person at the right time," Finne says, "building awareness nationally so more community members are aware and help by offering assistance during an emergency."
Users don't have to be tech-savvy or even have a geographic information system (GIS) to benefit from the data, Finne says. The emPOWER Map can be used by all, although those who have their own GIS can connect and consume the map's data layer using a GIS Representational State Transfer service that is automatically updated every month "into perpetuity." Communities can better plan and ensure at-risk individuals have safe places to go—including emergency shelters, local businesses, places of worship, public schools or libraries—to access power during an outage.
"We did this all by leveraging dedicated AI [artificial intelligence] algorithms that can be applied to the CMS data," she continues. Granular level details, including limited individual-level beneficiary and healthcare provider information, can be securely disclosed only to public health officials in the event of an imminent or current disaster to support life-saving outreach activities.
For emergency planning, the Arizona Department of Health and Nevada Department of Health and Human Services have leveraged the datasets to anticipate how much and the types of durable medical equipment to have on hand at their shelters, Finne says. In anticipation of Hurricane Matthew, the Florida Department of Health leveraged individual-level CMS data and an existing public alerting system to identify 45,000 individuals in eight counties with a potential medical need and perform a reverse lookup of phone numbers. A life safety call elicited responses by 17,000 residents, 169 of whom requested assistance.
During Hurricane Irma, ASPR collaborated with the Federal Emergency Management Agency and the Department of Defense (DoD) to use the individual dataset to rapidly identify, locate and safely evacuate dialysis-dependent beneficiaries on St. Thomas, U.S. Virgin Islands, says Finne. Only weeks later, they did likewise after Hurricane Maria hit St. Croix. Unfortunately, she adds, the two hurricanes "catastrophically damaged the entire healthcare system on the islands, so individuals who were relying on outpatient dialysis were put in immediate life-threatening situations. We were able to use this data to rapidly identify almost all of the [235] dialysis-dependent individuals and evacuate them to safety."
More AI
Public health officials are, of course, also interested in assisting disabled pediatric and adult populations who are insured by their own state-operated Medicaid program and Children's Health Insurance Program (CHIP) and would similarly be at risk in the event of an emergency. Having access to data for children is particularly critical as they may have unique equipment and supply needs that require special planning before an emergency, says Finne. To that end, through another innovative partnership with CMS, state and territory programs can now volunteer to participate in a pilot that provides them with the knowledge, tools and technical assistance for replicating and applying algorithms used for the HHS emPOWER program in their own state-operated databases.
Several pilots are underway around the country, the first in resource-strapped Nevada where the HHS emPOWER program has already assisted the states and several counties to better prepare for severe flooding events. Florida is looking to grow its auto-call capabilities to include Medicaid and CHIP beneficiaries. Some states, as a next step, have also expressed an interest in further extending the algorithms to all-payer datasets to capture yet more electricity-dependent individuals, Finne adds.
The instruction manual gives state officials "a comprehensive overview of the analytical framework, algorithms, and code libraries," she says, but remains a work in progress. ASPR will work closely with individual states to identify differences between systems and have those reflected in FAQs and other types of tools and resources to minimize the hurdles and guesswork.
That includes greater use of AI and, especially, virtual assistants. One of the lessons learned during the 2017 hurricanes was how much rescue efforts were being hampered by spotty internet connectivity, says Finne. "So many first responders wanted to use the emPOWER Map but getting down to the ZIP Code level was a multi-step approach that took too much time on tablets and smartphones in the field."
Google Virtual Assistant had recently made its debut and Amazon Alexa was at the top of everyone's wish list. The time was also right for ASPR to make the leap, she says. Later this fall, ASPR will be launching emPOWER AI—a modernized version of the Google and Alexa virtual assistants that will be a first application for HHS and emergency responders serving on the front lines of disasters. Using voice commands and cloud computing, virtual assistants can deliver answers in fractions of a second as opposed to manual use of the current applications on a computer, she notes.
With emPOWER AI, emergency responders in the field will be able to use their smartphone to get immediate answers to questions about electricity-dependent people in a disaster area and places with minimal connectivity, Finne says. "We're really excited about that. To our knowledge, we're the first to leverage this technology in our field and only second to the DoD that launched the NORAD [North American Aerospace Defense Command] Tracks Santa [an Alexa Skill]" last year.