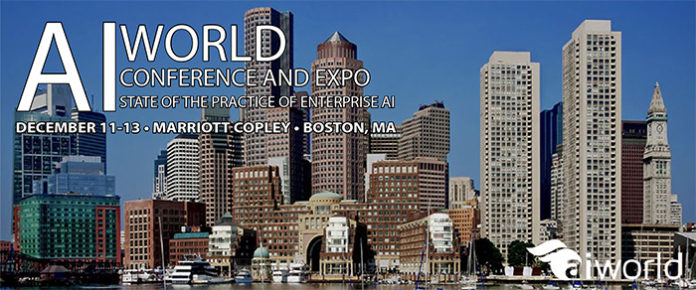 AI Trends Marketers Should Look for at
AI World
AI is coming to Boston December 11-13. If you're only planning to send your engineers, you should probably think again. AI tools are making huge strides in the martech space and revolutionizing how a marketer spends their day. Can you imagine being able to spend 80% less time scheduling meetings and building lists? How about seeing a 4x increase in overall lift/LTV?  Yeah, you should go to AI world.
If you're intrigued, read on for a roundup of some AI trends you should be looking out for at AI World.
Virtual Personal Assistants:
Marketers know how much time they waste on manual labor—be it email management, social media posting, or just trying to coordinate meetings. While it may not be the sexiest application of AI out there, these time savers are freeing up marketers to do more marketing and less project management.
Think email management, social media posting, meeting scheduling.
Customer Data & Insights Platforms:
This is what we do at Zylotech. Companies are building automated systems to identify, unify, cleanse, and enrich your data from both 1st & 3rd party sources. Beyond the data curation, smart platforms can now use that AI enabled data to power deep insights and predictive / prescriptive analytics. The best part? You don't have to learn a new marketing platform.  We push lists, segments, and recommendations into whichever delivery platform you already use.
The average marketer generally uses about 15% of available customer data, so unlocking the full data stack and feeding it into an AI application can yield huge insights in a fraction of the time that traditional approaches take.
A major benefit here is that the feedback loop an integrated data/decisioning platform has lends itself very well to AI optimization. Think about a cross-sell engine. It has a near real time validation of how effective its recommendations are and, due to the self adjusting nature of AI, it can quickly validate and improve its recommendations for your next campaign.
Companies like Zylotech, ActionIQ, and Agilone are pushing boundaries here and worth looking into if you're a customer marketer with big data available.
Image Analysis with Qualitative Reporting & Insights:
One major area that AI&ML are revolutionizing for marketers is image recognition, categorization and reporting. Images are quickly become the defacto communication medium for consumers, so marketers must be able to track and report on trends. There are lots of applications here. Some image marketplaces are implementing AI to curate and surface the perfect image for customers. Some marketers are using image recognition to spot logos in customer photos to build brand affinity models.
There are too many use cases to cover them all, but here are a few worth checking out. Two vendors worth taking a look at are Clarifai, a multipurpose API, and LogoGrab, a logo recognition analysis API.
Content Marketing & Targeting Tools:
For content marketers, a good editor is indispensable and can make or break a program. But what if an AI system could take over some, or all, of the tasks we rely on human editors for? With the major advances in NLP writing, editing, and targeting tools are smarter than ever.
From building brand personas of your content, to real time editing and suggestions as we write, AI infused content marketing tools are very quickly becoming more than a novelty. Speaking from experience, they probably can't replace a trusted editor quite yet, but they are getting there.
Here are a few interesting tools in the space: Acrolinx is like Grammarly for marketing writing with a scoring and recommendation engine. Lucy is powered by Watson and is a persona building and media planning AI application that looks like it could be very useful for a marketing manager who juggles a lot of tasks.
Advertising Tools:
Ads were the first place marketers and data scientists started to work together as a tight team, and it only makes sense that there are now a ton of new AI tools built to help businesses more intelligently, and quickly, make complex decisions around big ad data.
I remember when I was first starting out, I had an excel sheet with several significance calculators where I could test audience sizes, results, etc. to figure out what my ad data was telling me. Needless to say, it was clumsy and pretty inefficient. Now marketers can lean on machine learning based systems that do all of that, and more, in a fraction of the time.
Here are a few interesting tools in the space. Albert bills itself as an all-in-one solution for marketing delivery and has a few big clients including Harley Davidson. Sizmek is an AI recommendation focused ad platform, with a focus on transparency into its algorithms and how it's makes its decisions. This might be a good tool for marketers who aren't yet sold on a full black box solution.
Testing & Optimization Tools:
One last major category for marketers to keep an eye on is testing & optimization (T&O). T&O is a natural progression for ML in marketing as multivariate testing for a big brands can become very complex. With a good data source, a smart platform can test and optimize around any number of factors. Who would have thought that people in Georgia with 2 sessions go crazy for blue text? A smart platform can move quickly, and utilize a deep spread of data, and it's reasonable to imagine that in the next 10 years, most savvy companies will be running nearly autonomous platforms that personalize and shift their site for each customer. Amazon already does this with their powerful recommendation engines.
There's a lot of noise in this space, so take these recommendations as no more than a starting point. Sentient Ascend seems to be the most fleshed out and market ready player here. One feature that stands out is a/b funnel testing, rather than simply testing one page at a time. Strike Social is another player in the space, but looks to be mostly focused on Youtube ads & optimization.
At AI World
Most of the vendors I mentioned above are not going to be exhibiting (we are though!), but if you happen to be walking the show floor looking to chat, there will be plenty of AI applications that are being built to empower marketers to do better work faster. Consider this a primer on what marketing domains are being pushed with AI/ML tools.