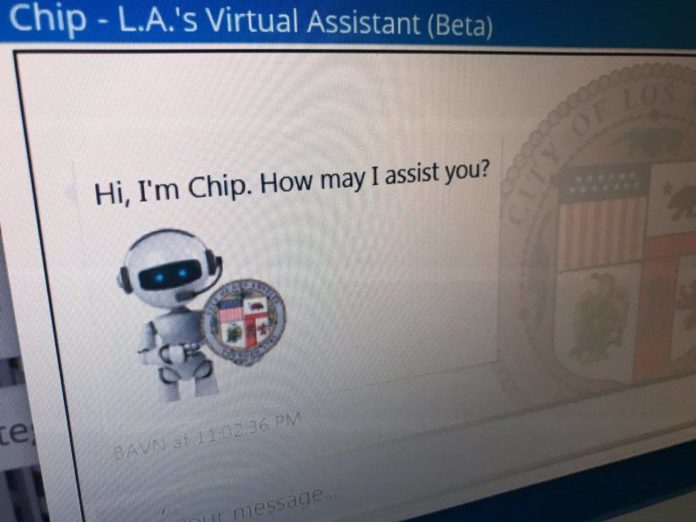 The city of Los Angeles' newest IT employee is an as-yet unsung chatbot hero incorporating AI, who has assisted more than 180 people in 24 hours and has answered more than 1,400 queries to the nation's second-largest city.
On Wednesday, May 3, however, Chip's anonymity ended when Microsoft and city officials promoted that hard work and potential to the Brooklyn Navy Yard audience at Smart Cities NYC '17.
Chip is a so-called chatbot whose name stands for "City Hall Internet Personality," although a Microsoft official said his capacity for learning raises him above that label. "He" considers himself "your personal digital assistant," as will become apparent if you visit the Los Angeles Business Assistance Virtual Network (BAVN), click on the WALL-E-esque icon and type in "What is your name?"
The city chose BAVN for the debut as a way to drive vendor engagement and make sure it's publicizing purchasing and procurement opportunities. It is keeping Chip in beta mode for now and delayed introducing the bot until it was clear "we feel it'll give the optimal customer experience," Los Angeles CIO Ted Ross told Government Technology.
For Los Angeles and Microsoft, however, the bot's potential far outstrips its current position, where since March 21 it has helped representatives of the city's more than 97,000 businesses search out contract opportunities, register to receive emails — even look for North American Industry Classification System code.
"Chip is an anytime, anywhere resource to understand how to do business with the city," Ross said. "When you have a city of over 4 million people it's impossible to bring everyone into a football stadium all at once to talk to them. Technology is the platform in which we engage people."
It reflects, he added, "the culture of innovation" that Mayor Eric Garcetti "has been setting at City Hall." And he offered a quote from Garcetti as proof: "Los Angeles is a platform for experimentation. It's a place where you can try different things out."
Its creation, like its mission, centers on streamlining: Chip was designed by two city developers during just three days in March, with training from Microsoft and access to its Cortana platform, its Azure bot framework and the Microsoft Azure government cloud where Chip lives.
Read the source article at Government Technology.