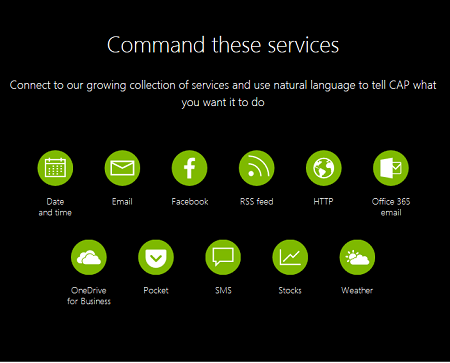 By Microsoft's own admission, Conditional Action Programmer is the "worst name ever." Microsoft Bob, Microsoft Kin, and PlaysForSure, you may step down now.
The app automation service, which can be reduced to the more appealing abbreviation CAP, is similar to glue services IFTTT and Zapier that allow apps to interact with each other. It's also similar to another recently introduced Microsoft offering, Flow, so much so that it's tempting to wonder whether the company's various teams talk to one another.
But conversational comprehension is CAP's reason for being. The experimental project from Microsoft's Technology and Research group offers a way to automate app interactions using natural language rather than code.
CAP supports Flow's menu-driven programming model in which a user directs the service, for example, to send an SMS notification to a mobile device when an email arrives in Outlook. This is a proven method for interaction and is easy enough for almost anyone to manage