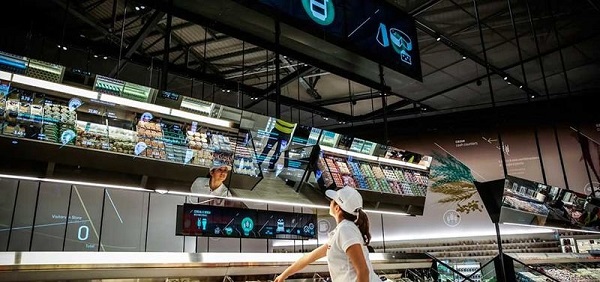 The future of customer experience is artificial intelligence. Artificial intelligence is popping up everywhere and changing how customers interact with brands. In fact, by 2025, an estimated 95% of customer interactions will be supported by AI technology.
From chatbots to automation, artificial intelligence helps brands learn more about their customers to enhance personalization. Here are just a few of the ways brands are leveraging artificial intelligence and machine learning to make customer experiences better:
1-800 Flowers Leverages A Chatbot To Speed Up The Customer Experience
1-800-FLOWERS made ordering the perfect floral arrangement even easier by creating a Facebook Messenger chatbot to help customers order flowers. The bot is trained to pick up on conversational cues to suggest arrangements—if a customer mentions they need something quickly, the bot can briskly suggest the perfect flowers to win someone over. The bot shows pictures of each arrangement and makes it easy for customers to create their own message and set up the delivery
Retailer North Face Uses Watson To Create A Personalized Shopping Experience
Outdoor retailer North Face uses IBM's AI supercomputer Watson to create a personalized online shopping experience. The site helps customers refine product selections based on their answers to a series of questions. If a customer says they like to hike in the winter, the program would ask questions about their location and preferences to recommend a jacket that will keep them warm and work with their preferred activities. Instead of sorting through hundreds of products to find the right one, the bot makes the choice much easier.
Dixons Carphone Recommends Insurance Through A Chatbot
UK-based Dixons Carphone – a multinational electrical and telecommunications retailer and services company – uses artificial intelligence in the form of a bot named Cami to connect online and in-store shopping experiences. Cami is a product expert who can recommend items, give advice, and anticipate customer's needs and future purchases. If someone buys a new mobile device, Cami can automatically recommend cases or insurance. Cami can also easily check inventory, so in-store associates can stay with the customers. Employees can spend more time interacting with customers in the front of the store instead of sorting through inventory in the back of the store.
Ticketmaster Combats Fraud With Artificial Intelligence
Ticketmaster turned to artificial intelligence to combat ticket fraud, which was making the ticket buying experience negative for its customers. The company built a bigger bot to fight scalper bots that buy tickets and sell them for higher rates. Before tickets go on sale, customers must register on the site. The AI bot then analyzes every customer to make sure the people purchasing tickets are actually human. It seems to be working, as fewer tickets are ending up listed on third-party sites.
Read the source article at Forbes.