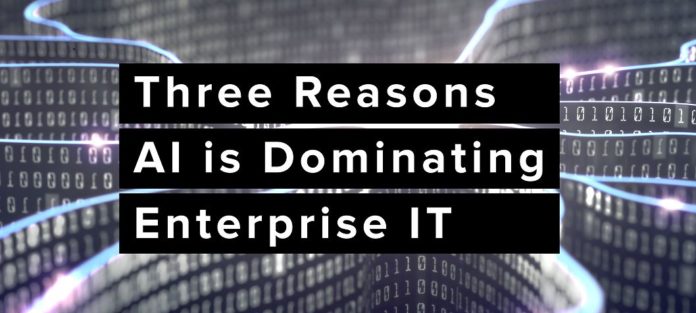 By Shay Sabhikhi, CEO, CognitiveScale
2017 has been a dynamically transformational year for Artificial Intelligence. The market today barely resembles that of last year. While hundreds of new AI vendors have planted their flags in the AI delivery landscape, hundreds more are claiming AI without being true AI. As we begin to break through the noise, it becomes clear that not only has AI grabbed a foothold in enterprise IT, but it is also poised to become as ubiquitous as the internet—touching every aspect of our lives, from our jobs and transportation systems, to healthcare and entertainment.
AI is not a new term—you've heard about it in sci-fi movies throughout the years and, more recently, in fear-based conversations about AI replacing human jobs with machines. But what is happening now that is causing AI to "take off," when we've been talking about it for so long? How do you make sense of all of it? And how do you know you are investing in AI that you and your customers can trust?
To answer these questions, let's look at three significant advancements in AI this year that have accelerated its adoption far beyond the imaginations of filmmakers and data scientists. They are: Augmented Intelligence, Industry-Specific Augmented Intelligence, and "Explainability" in AI.
Augmented Intelligence: Pairing Humans and Machines
AI is now gaining momentum because of an offshoot called augmented intelligence. Unlike Artificial Intelligence that replaces humans with machines, Augmented Intelligence emulates and extends human cognitive function through the pairing of humans and machines. Analysts and industry experts are starting to agree that augmented intelligence is the most effective way to maximize the value of AI.
Augmented intelligence is a new class of technology, data, methods, and skills focused around a business-led portfolio of industry optimized AIs, rather than point solutions or science projects. With people and machines working together to address some of the most complex enterprise problems, AI can drive transformative change within an organization, deliver true business outcomes quickly, and greatly improve shared employee knowledge when paired with machine-delivered insights.
Proof that augmented intelligence is driving AI adoption, a recent article in CIO Magazine named CognitiveScale among a handful of other vendors embracing augmented intelligence and focusing on specific domains in which they can apply AI technologies to help employees make better decisions or work more productively. The article further states that even industry stalwarts such as IBM and Microsoft are adopting the shift to a focus on augmented intelligence.
But while organizations are aware of the benefits they can achieve with augmented intelligence, they still struggle to identify relevant and impactful ways to apply it to deliver key business outcomes. Therefore, AI needs to be industry optimized.
Practical AI: Industry-specific Augmented Intelligence
Every day, we are approached by CXOs and IT and BU Execs across a variety of industries wanting a practical approach to augmented intelligence. They've heard how we deliver augmented intelligence solutions that adapt and scale in real time to the world and the data that is changing around them rapidly—specific to their industry, and aligned the business outcome they are trying to improve.
A couple of weeks ago, AdAge ran an article about work we are doing with NBC Universal to apply augmented intelligence to SuperBowl ads to help determine, "What makes a winning Super Bowl Ad?" Regardless of industry, we deliver industry-specific augmented intelligence solutions that search all available data forms: text, speech, voice, and video to deliver the best answers to the questions or business problems our customers want to solve.
Banks know augmented intelligence will revolutionize the way they gather information and interact with customers – using it to understand the stated and unstated intentions of customers to enable better interactions. According to the Accenture Banking Technology Vision 2017, 78 percent of bankers globally believe that AI will enable simpler user interfaces that will help banks create a more human-like customer experience. Our leadership in pairing humans and machines also enables banks to apply AI to business process intelligence, ensuring employees have the right answers and advice for the clients they serve.
And the Healthcare industry is facing major disruption as market and regulatory forces drive an even greater need for operational efficiency while delivering better service. It is forcing providers, payers, and pharmacies to engage the healthcare journey and extend care beyond the traditional clinical setting. It is for these reasons that Global Market Insights, Inc. estimates the healthcare artificial intelligence market will exceed $10 billion by 2024.
Delivering industry-specific augmented intelligence solutions to our customers in financial services, healthcare, retail, media and entertainment, and others, has contributed to the rapid adoption of AI in the enterprise. But, I'd be remiss if I didn't mention that further accelerating the adoption of these industry-specific augmented intelligence solutions is our own 10-10-10 method.
10-10-10 helps businesses model their first AI-powered cognitive system in 10 hours, configure it using their own data in 10 days, and go live within 10 weeks. From day one of deployment, the system is already learning more and providing proven and explainable insights. Enterprises are reporting this approach is a radically different experience compared to previous AI experiences which cost hundreds of millions of dollars and engaged hundreds of data scientists—with still no AI driving a business outcome within their organizations.
Building Trust with "Explainability" in AI
At the heart of, or should I say "brain" of our industry-specific AIs is Cortex: our augmented intelligence platform that addresses key human cognitive functions around Probabilistic Domain Knowledge, Personalization, "Explainability," Composition, Continuous Learning, and Control.
But for today's purposes, I want to talk only about "Explainability" and how it is building the trust necessary for people to adopt AI; it delivers the "proof" that heavily regulated industries (e.g. financial services and healthcare) need to ensure that the insights derived are compliant with industry standards and regulations.
"Explainability" ensures transparency into the system's rationale for derived insights. Banks, cancer centers, defense and intel organizations are leery of "black boxes" that shoot out random answers, even if the answer is right. Trust is something that builds with time, and trust can be accelerated by clearly communicating rationale. The need for evidence-based insight becomes that much more critical when dealing with heavily regulated industries. The more actionable the insight provided, the more important the evidence is, and we have frequently found that providing evidence to explain system rationale is key to driving user adoption and AI success.
The reasons I believe AI has taken off  in the last nine to 12 months are the pairing of human and machine with augmented intelligence, industry-specific augmented intelligence solutions, and delivering "Explainability" (or trust). These catalysts are really "cranking up the heat" in AI and making it the most practical "must-have" enterprise technology of the year.
Are you trapped in an expensive AI Science Project that sees no end in sight? I'd like to hear your thoughts on the three accelerators I talked about above, and what, if anything, you are doing to shift your organization's thinking away from AI and toward augmented intelligence.
For more information about CognitiveScale industry-specific augmented intelligence, please visit www.cognitivescale.com