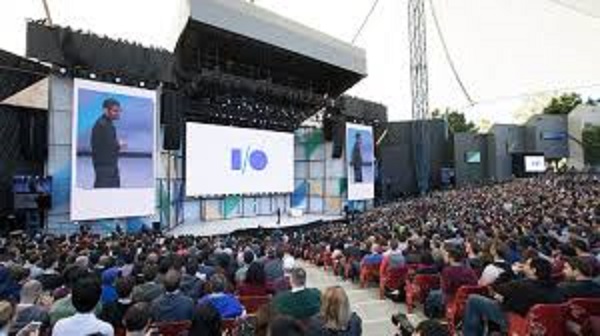 At Google's 2017 I/O keynote today, CEO Sundar Pichai introduced new products and shared more information about the company's "AI first" future. Here's a running list of what happened that matters.
Google is rethinking "all" of its products for an AI-first world. That's the high-level promise from Pichai, and the change Google must successfully navigate to continue its dominance. Examples: Google Search now ranks differently using machine learning, Google Maps Street View automatically recognizes signs, video calling uses machine learning for low-bandwidth situations, etc.
Google can now use your camera as an input device. Google announced a "Lens" feature for its Assistant service that will tell you information about what's in front of your phone camera: What type of flower you're looking at, info about the restaurant across the street, etc. This combines a bunch of tech buzzwords — AI, AR, machine learning, computer vision — into one feature, and highlights how Google's massive collection of data about the world can be used together. It's also another example of how Google is trying to get ahead of the latest preference for photos versus text.
Google's latest user numbers: There are now 2 billion active Android devices, 500 million active Google Photos users and 1.2 billion videos and photos uploaded to Google Photos every day. Users navigate more than 1 billion kilometers per day with Google Maps. Google Drive has 800 million users. And people watch 1 billion hours of YouTube videos a day.
Don't like writing emails? Don't have to. Gmail on Android and iOS is getting an automated-response feature called Smart Reply, which lets you choose up to three responses that are based on the received email. You can add more to a response after selecting it if you want, or you can just send the automated response as-is.
More Google in more places, in more languages. Google Assistant is rolling out to the iPhone — though it won't (and can't) replace Siri as the default assistant — and will be available in more languages like French and German.