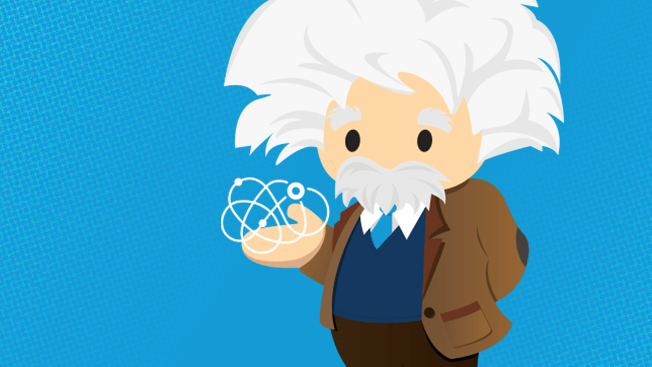 Last week, Salesforce CEO Marc Benioff touted a vision of the future in which everything and everyone will be connected and driven by machine learning and data. Benioff was launching his company's foray into artificial intelligence last week in front of 170,000 people at its annual Dreamforce conference in San Francisco.
While the future-looking technology has been in the works for years and was built by hundreds of data scientists, Salesforce's AI tool actually takes a branding lesson from the past—specifically, from Albert Einstein.
Salesforce unveiled Einstein in September and at Dreamforce explained how it works. Here's the gist: Salesforce is plugging AI into all of its products—including email, mobile and social media—to make them a little smarter the more you use them. For instance, Einstein's algorithm-based learning can anticipate which emails customers are most likely to click on based on the recommended products they promote. Einstein can also flip through photos and videos to see if they are relevant for a brand, analyze how people use apps, and predict the best time to send a piece of marketing.
Under the tagline, 'AI for everyone,' Salesforce's branding for Einstein entails an Albert Einstein cartoon character and the Einstein name that's being used in the company's business-to-business advertising. And there's an interesting backstory behind that name.
In June, Salesforce started talking to Greenlight, which is owned by Branded Entertainment Network, or BEN, about acquiring some of the assets associated with the iconic scientist.
'Albert Einstein globally represents creativity, innovation and you've got a huge global audience about innovation, genius and creativity—Salesforce can immediately tap into that brand recognition and not have to start from scratch,' said CEO Gary Shenk of BEN.
On Facebook, Einstein has more than 19 million followers, with another 66,500 on Twitter. And on Instagram, 524,000 accounts follow his posts, which often make pop-culture references or relate to history.