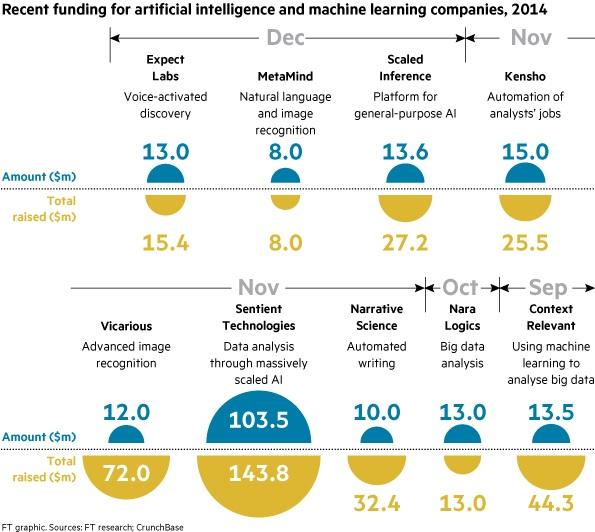 Silicon Valley loves a new fad. To judge by the spate of fundraising by start-ups in recent weeks, it has found one in an idea that is more than half a century old: artificial intelligence.
"This is the hot place to be at the moment," says Stephen Purpura, whose own AI company, Context Relevant, has raised more than $44m since it was founded in 2012. By his reckoning, more than 170 start-ups have jumped on the AI bandwagon.
The newcomers to AI believe that the technology has finally caught up with the hopes, bringing a heightened level of intelligence to computers. They promise a new way for humans to interact with machines — and for the machines to encroach on the world of humans in unexpected ways.
"Technologically, it's a paradigm shift from putting commands into a box to a time when computers watch you and learn," says Daniel Nadler, another of the AI hopefuls. His company, Kensho, raised $15m recently in pursuit of an ambitious goal: to train computers to replace expensive white-collar workers such as financial analysts.
"We don't describe what we're doing as AI — we call it, 'automating human-intensive knowledge work'," he says.