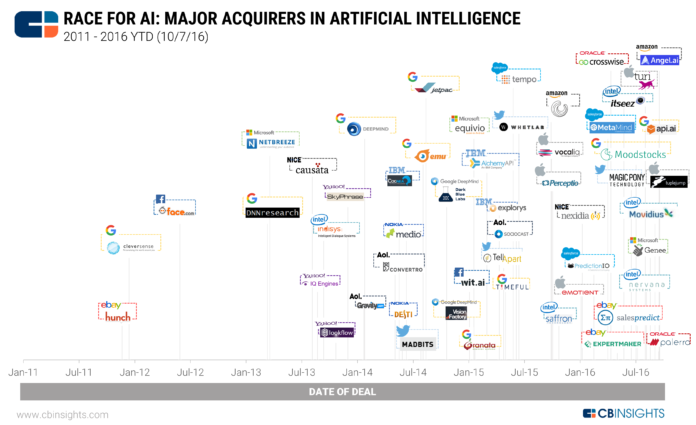 Nearly half of the AI companies acquired since 2011 have had VC backing.
Nearly 140 private companies working to advance artificial intelligence technologies have been acquired since 2011, with over 40 acquisitions taking place in 2016 alone (as of 10/7/2016). Corporate giants like Google, IBM, Yahoo, Intel, Apple and Salesforce, are competing in the race to acquire private AI companies, with Samsung emerging as a new entrant this month with its acquisition of startup Viv Labs, which is developing a Siri-like AI assistant.
Google has been the most prominent global player, with 11 acquisitions in the category under its belt (follow all of Google's M&A activity here through our real-time Google acquisitions tracker).
In 2013, the corporate giant picked up deep learning and neural network startup DNNresearch from the computer science department at the University of Toronto. This acquisition reportedly helped Google make major upgrades to its image search feature. In 2014 Google acquired British company DeepMind Technologies for some $600M (Google DeepMind's program recently beat a human world champion in the board game "Go"). This year, it acquired visual search startup Moodstock, and bot platform Api.ai.
Intel and Apple are tied for second place. The former acquired 3 startups this year alone: Itseez, Nervana Systems, and Movidius, while Apple acquired Turi and Tuplejump recently.
Twitter ranks third, with 4 major acquisitions, the most recent being image-processing startup Magic Pony.
Salesforce, which joined the race last year with the acquisition of Tempo AI, has already made two major acquisitions this year: Khosla Ventures-backed MetaMind and open-source machine-learning server PredictionIO.
We updated this timeline on 10/7/2016 to include acquirers who have made at least 2 acquisitions since 2011.