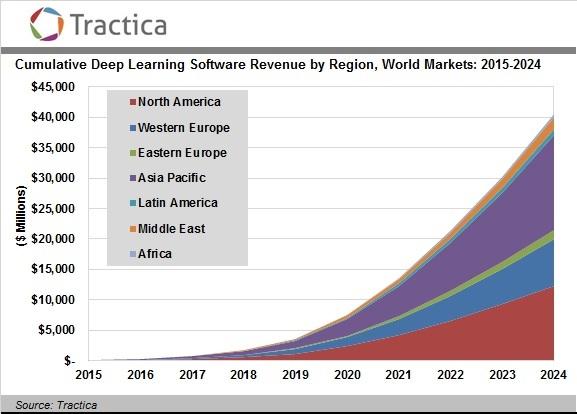 Enterprises Are Increasingly Focused on Deep Learning as an Enabling Technology, Especially for Data-Intensive Business Processes
Deep learning, which has emerged as one of the most active technology areas within the broader field of artificial intelligence (AI), is attracting an increasing level of attention from industries as diverse as advertising, finance, manufacturing, media, and healthcare.  Deep learning is primarily an enabling technology, making areas like machine perception, big data analytics, and the Internet of Things (IoT) much stronger.  The technology is especially well-suited for businesses that deal with large amounts of data.
According to a recent report from Tractica, cumulative worldwide spending on deep learning software within the enterprise market will total $40.6 billion during the period from 2015 through 2024.  The market intelligence firm forecasts that annual deep learning software revenue will increase from $109 million in 2015 to $10.4 billion in 2024.