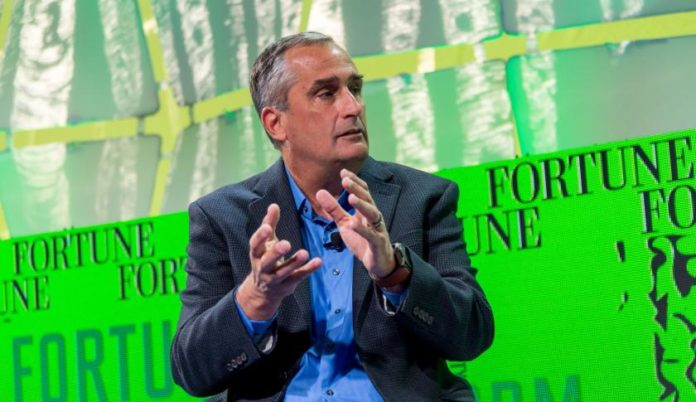 The chip-maker says it has the smarts to handle all types of cutting-edge data analytics.  Like many technology companies nowadays, Intel is trying to capitalize on the rise and hype of artificial intelligence.
At a media event Thursday in San Francisco, Intel CEO Bryan Krzanich made the case for why he believes his company's chip technologies and products are best suited to power the various forms of trendy, cutting-edge data crunching techniques popularized in recent years by companies like Google, Facebook , IBM and others.
These technology companies have used A.I. techniques like deep learning to train their computers to perform feats like translating text into different languages and recognizing objects in pictures.
Intel INTC -0.20% is betting that more companies beyond just these technology giants will incorporate advanced data analytics into their business—and will need to buy the chips to power the tasks.
With Intel's core personal computer chip-making business declining (along with the rest of the PC market), the company has been trying to shift to selling beefier chips that run inside company data centers. At the same time, the company is also trying to build a business around selling chips that power Internet-connected devices, like automobiles or factory equipment.
As Krzanich explained, it's the flow of information to and from these Internet-connected devices to data centers that he believes will be a big business. It's the same marketing speech he and Intel have been giving for the past few years, but what's different now is that the company is heavily emphasizing "artificial intelligence" as a catch all to what companies traditionally consider to be business or data analytics.
Krzanich cited the company's recent acquisition of chip-makers Movidius for an undisclosed amount and Nervana for $400 million as examples of how Intel is trying to create more advanced chips tailored for powerful data processing. Nervana, for example built specialized chips and software to handle tasks like deep learning.
"The goal of all these acquisitions is to make artificial intelligence pervasive across all of [Intel's] products," Krzanich said.
The investments into artificial intelligence come at a time when Intel is facing increased competition from rival chip maker Nvidia NVDA 1.05% , which specializes in a type of technology called a graphics processing unit, or GPU.
Besides powering graphics in video games, GPUs are also used to power the computational heavy tasks of training computers on enormous data sets. As a result, Nvidia has seen its revenue soar over the past year. In its latest quarter, Nvidia's sales increased 54% year-over-year to $2 billion due in part to selling GPUs to companies.
Still, the company is a much smaller company than Intel. Intel has a market cap of $166 billion while Nvidia has a market cap of $48 billion.
While not a significant threat yet to Intel's dominance in the data center, the skyrocketing growth of Nvidia represents a possible threat to Intel in the future if more companies buy GPUs to handle data-intensive tasks instead of Intel's own CPUs.
Indeed, at several times during the Intel event, Krzanich and other Intel executives downplayed the notion of needing to use GPUs to handle the power-hungry task of deep learning. GPUs are "not the only solution out there," said Krzanich.