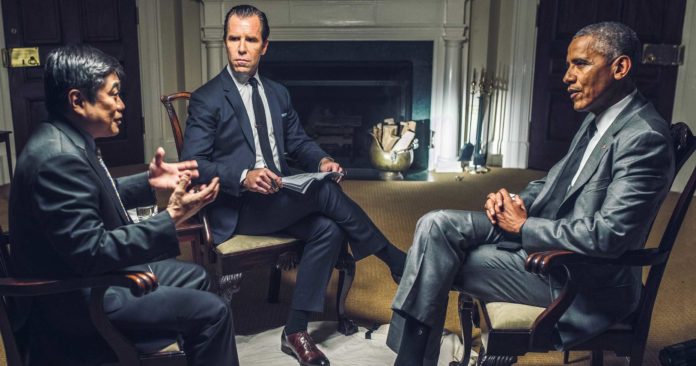 IT'S HARD TO think of a single technology that will shape our world more in the next 50 years than artificial intelligence. As machine learning enables our computers to teach themselves, a wealth of breakthroughs emerge, ranging from medical diagnostics to cars that drive themselves. A whole lot of worry emerges as well. Who controls this technology? Will it take over our jobs? Is it dangerous? President Obama was eager to address these concerns. The person he wanted to talk to most about them? Entrepreneur and MIT Media Lab director Joi Ito. So I sat down with them in the White House to sort through the hope, the hype, and the fear around AI. That and maybe just one quick question about Star Trek.
SCOTT DADICH: Thank you both for being here. How's your day been so far, Mr. President?
BARACK OBAMA: Busy. Productive. You know, a couple of international crises here and there.
DADICH: I want to center our conversation on artificial intelligence, which has gone from science fiction to a reality that's changing our lives. When was the moment you knew that the age of real AI was upon us?
OBAMA: My general observation is that it has been seeping into our lives in all sorts of ways, and we just don't notice; and part of the reason is because the way we think about AI is colored by popular culture. There's a distinction, which is probably familiar to a lot of your readers, between generalized AI and specialized AI. In science fiction, what you hear about is generalized AI, right? Computers start getting smarter than we are and eventually conclude that we're not all that useful, and then either they're drugging us to keep us fat and happy or we're in the Matrix. My impression, based on talking to my top science advisers, is that we're still a reasonably long way away from that. It's worth thinking about because it stretches our imaginations and gets us thinking about the issues of choice and free will that actually do have some significant applications for specialized AI, which is about using algorithms and computers to figure out increasingly complex tasks. We've been seeing specialized AI in every aspect of our lives, from medicine and transportation to how electricity is distributed, and it promises to create a vastly more productive and efficient economy. If properly harnessed, it can generate enormous prosperity and opportunity. But it also has some downsides that we're gonna have to figure out in terms of not eliminating jobs. It could increase inequality. It could suppress wages.