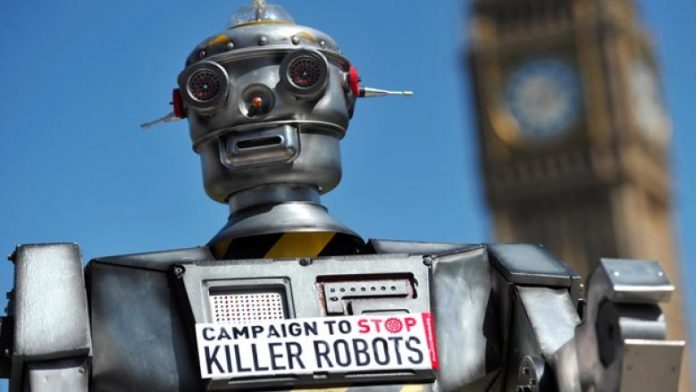 Editors note: In light of the recent death caused by a robot in Dallas, see Robot's role in killing Dallas shooter is a first we came across this article published in April by CBC news.
Peace groups are pushing the Liberal government to play a lead role in crafting a global ban on "killer robots."
Canadian government and civilian officials were at a United Nations disarmament conference in Geneva this week for the third round of talks on whether to outlaw lethal autonomous weapons systems.
With the swift acceleration of artificial intelligence and automated technology, there are growing concerns around the development of so-called killer robots.
Unlike drones and other technologies that are controlled remotely by humans, lethal autonomous weapons systems (LAWS) could operate independently in military missions. Proponents say with proper safeguards it could actually save lives, but critics say they will lead to an arms race and even threaten humanity.
No place in battlefield
Yeshua Moser-Puangsuwan of Non-Violence International said while automated machines may work well on factory floors, they have no place on the battlefield.
"War is an unstructured space," he said. "Can a machine differentiate between a soldier charging and a refugee fleeing? It's hard enough for a human to do so, and requires relational thinking that is not yet occurring and isn't on the horizon."
Moser-Puangsuwan's organization is part of a global campaign, Stop Killer Robots. In Geneva they have been calling on Canada and other governments to implement a pre-emptive ban on the use, production and trade in autonomous weapons.
Five countries called for a ban on development of LAWS this week, bringing the total to 14.