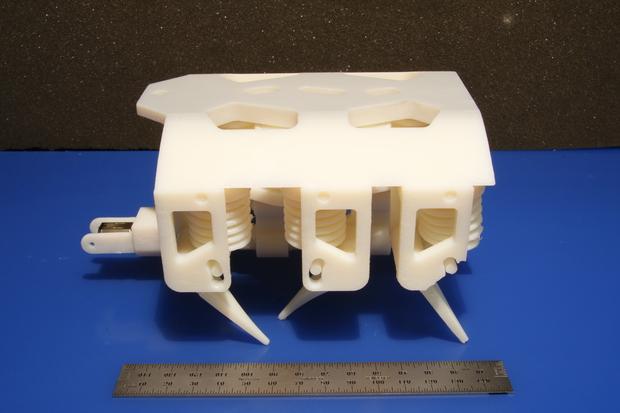 Imagine you could use a standard 3D printer to create your next robotic assistant. Just snap in a motor and battery, and it's ready to go.
That's precisely the scenario made possible by a new 3D printing technique developed at MIT.
Liquids have long been a challenge for 3D printing, and they're necessary for hydraulic devices like moving robots. On Wednesday, researchers at MIT's Computer Science and Artificial Intelligence Laboratory (CSAIL) announced what they call the first-ever technique for 3D printing robots that can print solid and liquid materials at the same time.
That means it's possible to print dynamic robots in a single step, using a commercially available 3D printer.
"Our approach, which we call 'printable hydraulics,' is a step towards the rapid fabrication of functional machines," said CSAIL Director Daniela Rus, who oversaw the project and co-wrote a paper describing the results. "All you have to do is stick in a battery and motor, and you have a robot that can practically walk right out of the printer."
The paper will be presented next month at the 2016 IEEE International Conference on Robotics and Automation (ICRA) in Sweden