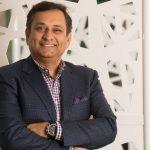 When Manoj Saxena surveys what's next in the world of computing, he sees a huge change coming that will transform the way we live our lives.
The former general manager of IBM's Watson project, which scours millions of pages of data to answer questions posed in natural language, says machine learning and artificial intelligence represent the fourth big inflection point in history — after the alphabet, the printing press and the Internet.
"This shift is going to make the Internet look small in terms of impact," he says. In his view, we're just at the beginning of the artificial intelligence (AI) investment cycle. The $2 billion already invested in AI is just one-tenth of what's to come. "In about five years, saying, 'My software does AI,' will be like saying, 'My software does the Internet,'" he said, in a recent interview with Texas CEO Magazine.
The App That Knows You
Saxena sees two areas where artificial intelligence will have a long-term effect: health care and education. Health care is already a trillion-dollar industry, he says, and 80 percent of its costs go into chronic care management. Within five years, 150 million Americans will be managing some kind of chronic disease. The difference is, most of that management will be done at home, not in a hospital. People will be using a health care "concierge," Saxena says.