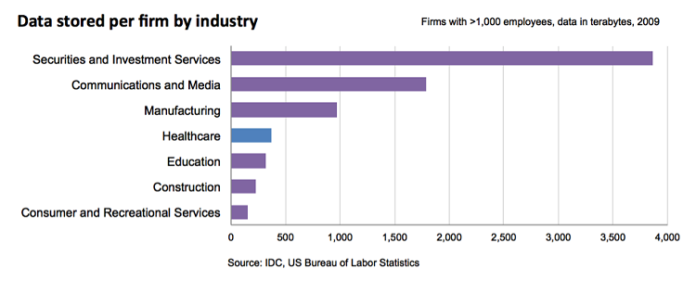 Nearly every industry is searching for ways to create value from rapidly expanding amounts of data, but few sit on as much untapped opportunity as today's healthcare providers. Electronic health records and connected medical devices have created an unprecedented volume of data. Most of this data sits unanalyzed, leading to operational inefficiency and missed opportunities for improved patient care. However some healthcare organizations are getting value from their data by finding applications that provide quick wins, and they are using their early successes to build a data-driven culture.
Health Catalyst recently released a survey of hospital executives on the role of predictive analytics in the healthcare industry. Though 80% of the executives surveyed believe forward-looking data analytics could significantly improve the industry, only 31% of respondents have integrated these advantages in their organizations. Even worse, 19% have no plans to do so.
What explains the slow adoption of predictive analytics in healthcare? It is largely historical. In contrast to industries like banking and insurance, which treat data analysis as a core competency, medicine has long been practiced as an art. Physicians accepted that medical information was locked in hard-to-analyze handwritten notes. As a result, few healthcare providers bothered to assemble analytics teams. Many still feel unprepared to do so today.
A multitude of examples show that a successful first project can build the confidence and momentum needed to create a data-driven and highly optimized organization.
As a case in point, one large Midwestern hospital system struggled with high costs arising from patients who were discharged too early and subsequently readmitted. Doctors broadly understood the risk factors for most patients, but they sometimes missed critical information because they lacked the time to pore over every detail of every patient's medical record.
Read the source article at informationweek.com.