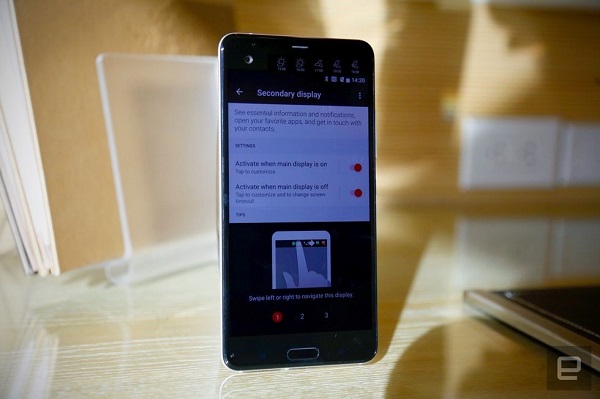 Last year, HTC's flagship 10 smartphone won plenty of accolades — we liked it because the company bucked the gimmicks and built a no-nonsense device that was excellent in its own right. With a new year comes a new flagship, though, and this time HTC is taking a very different approach. Meet the HTC U Ultra, a peculiar little machine that'll feel at least a little familiar to fans of other high-end smartphones.
When we say "familiar," though, we're not talking about the phone's design and materials. In fact, the U Ultra's look is unlike any in recent memory. Some of HTC's usual design flourishes, like the pill-shaped fingerprint sensor and the centered UltraPixel camera are still here, but designers traded the usual aluminum look for a finish that looks almost liquid. The frame is still made of metal but the back is covered in a beautiful curved glass that looks almost pearlescent under the right light. It's a gorgeous effect born from HTC's obsession with material science that plays well on all four U Ultra colors (black, white, blue and pink).
While you might notice those finishes first, it's the screen that makes the U Ultra feel so much like an LG phone. Well, the second screen, to be more precise — it sits above the Ultra's 5.7-inch Quad HD Super LCD 5 screen just like it did on the V10 and V20. Sure enough, you'll be able to add shortcuts to apps and get weather readouts, but HTC is counting on artificial intelligence to actually make that second screen useful. On devices like the V20, for instance, notifications just appear as events occur, ultimately leading to a list sorted by time rather than importance.
Read the source article at engadget.com.