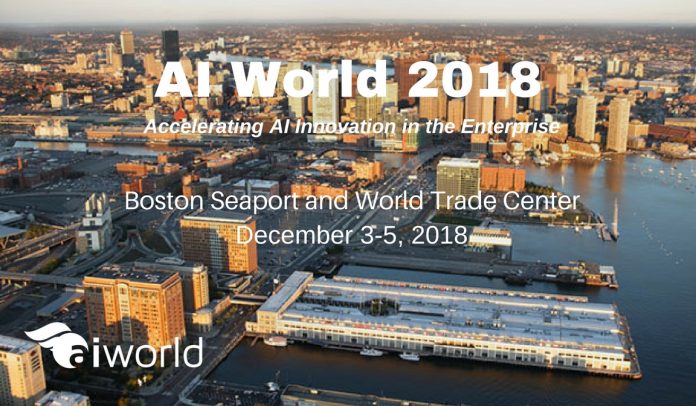 Press Release
AI World 2017 Draws Over 2,300 Attendees and
Announces 2018 Event

Plans Underway to Expand Content and Industry Participation at
AI World 2018, Dec 3-5 in Boston
Westborough, MA – Jan 23, 2018 – Trends Equity, Inc. today announced that the second annual AI World Conference and Expo – www.aiworld.com – held Dec 11-13, 2017 in Boston, MA was a great success, drawing over 2,300 attendees, 150+ speakers and 85+ sponsors and exhibitors.
According to Eliot Weinman, conference founder and chair, "We are extremely pleased to announce that AI World 2017 held Dec 11-13 at the Marriott Copley Square Hotel exceeded all expectations.  In particular, more than 1,000 business executives registered for our 3 day conference attendee passes (more than double our 2016 event), and over 1,300 people registered for an exhibit pass.  AI World was developed to inform global 2000 business executives about the state-of-the-practice of enterprise AI.  The comprehensive three-day conference and expo focused on how AI, machine learning and intelligent technologies are in use today by the most innovative companies to build competitive advantage, drive new business opportunities and accelerate innovation efforts.  Conference attendees heard from business and technology innovators from more than 150 organizations including Google, Facebook, Nielsen, Monsanto, Children's Hospital Los Angeles, Philips Healthcare, SONY Pictures Entertainment, MIT CSAIL, iRobot, SRI, PARC and Microsoft."
Mr. Weinman added, "I want to thank our corporate hosts IBM Watson, Kogentix, Semiconductor Energy Labs and Veritone, our Premier Research Sponsor Forrester, our Premier Business Media Sponsors FORTUNE, Harvard Business Review and MIT Sloan Management Review as well as all of our speakers, sponsors and conference attendees for helping to make this event so successful.  We have already begun to develop expansion plans for AI World 2018, which will be held Dec 3-5 at the Boston Seaport Hotel and World Trade Center."
About AI World
AI World Conference and Expo is the largest independently produced conference and expo that focuses on the state of the practice of enterprise AI.  The conference is focused on the business and technology of enterprise AI. The 3–day conference and exposition is designed to bring business and technology leaders together annually to learn about the state-of-the-market and state-of-the-practice in designing and deploying AI innovative intelligent systems in the enterprise.  To learn more, please visit: www.aiworld.com
About AI Trends
AI Trends is the companion online publication of AI World, and is the leading industry media channel focused on the business and technology of AI. AI Trends is designed for business executives wishing to keep track of the major industry business trends, technologies and solutions that can help them keep in front of the fast-moving world of AI to gain competitive advantage. To learn more, please visit www.aitrends.com.
Media Contact
Ashley Harvey
AI World
ah@aiworld.com
+1 (508) 645-6564