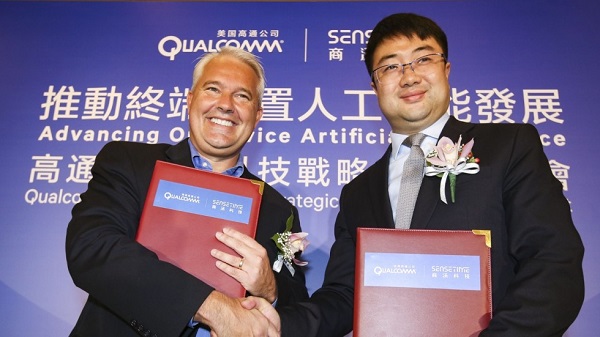 SenseTime, China's leading AI unicorn, on Nov. 15 announced a strategic investment agreement with global communications giant Qualcomm Inc., which is pending closing.
(Photo above shows SenseTime co-founder and CEO Li Xu (right), and Keith Kressin, SVP of product management at Qualcomm (left).)
The two companies will working on development of on-device AI for applications including computer vision and camera-based image processing.
In a statement, Qualcomm said the partnership will leverage SenseTime's machine learning models and algorithms and Qualcomm's Snapdragon chips, which offer heterogeneous computing capabilities for client-based AI.
SenseTime in July announced that it had raised $410 million in its Series B round of funding, setting the then-record for the highest single round of financing in the global AI industry.
Boosted by this collaboration with Qualcomm, SenseTime's proprietary AI algorithms will be in a position to be deployed in more smartphones and devices. SenseTime's "algorithm + chip" strategy behind the collaboration is set to redefine the next generation of intelligent terminal devices.
The explosive growth of intelligent terminals has driven the large-scale implementation of AI technology to new heights. While the performance quality of smart devices previously depended on the computing capabilities of chips, today's smartphones, cameras, robots, the Internet of Things (IoT) products, and other devices require extremely powerful processing in order to meet the demands of real-time data. With the shared vision of SenseTime and Qualcomm Technologies to drive an "algorithm + chip" strategy, the two parties are on track to redefine the intelligent terminal ecosystem and accelerate its development.
Quinn Li, VP and Global Head of Qualcomm Ventures said in a press release, "Qualcomm is investing great effort into researching ways to boost the development of on-device AI with 5G technologies by enhancing AI chip capabilities. Qualcomm's investment will enable SenseTime to invest more in AI research and development. Given our shared vision and customers, our collaboration will offer customers more integrated solutions, reduce the cost of deploying AI technologies for intelligent device OEMs, shorten the R&D cycle, and therefore rapidly upgrade the entire terminal device industry."
Qualcomm said it is focused on optimising the Snapdragon mobile platform to accelerate AI use cases in the areas of computer vision and natural language processing for smartphones, IoT and automotive applications. It is also researching broader executions in the areas of wireless connectivity, power management, and photography.
Dr. Xu Li, co-founder and CEO of SenseTime, said, "SenseTime is dedicated to developing cutting-edge AI technologies to connect upstream partners with the downstream market. With Qualcomm's strategic investment and collaboration, SenseTime can bring AI technologies to more terminal devices and boost the development of the entire intelligent device ecosystem. We look forward to exploring more intelligent implementations with Qualcomm Technologies to offer partners a one-stop solution that covers the entire industry chain."
During the Shang Dynasty 3,600 years ago, China led the world with its advanced agricultural and handicraft industries; SenseTime, whose name comes from the phonetic translation of Shang Dynasty and its emperor Tang, derives great inspiration from this period and seeks to unleash a similar era in computer vision and deep learning in the AI world that will also enable SenseTime to export its self-developed technologies internationally. SenseTime, with Qualcomm Technologies' commercial collaboration, believes it will not only enable the implementation of the "algorithm + chip" strategy but jumpstart an evolution from "smartphone" to "intelligent phone", and from the "connected world" to the "intelligent world".
About SenseTime
SenseTime is China's largest artificial intelligence (AI) company focused on computer vision and deep learning technologies. It is also the largest AI unicorn valued above USD 1.5 billion.  
The developer behind China's only proprietary deep learning platform, SenseTime has become the largest algorithm supplier in the country. The company is dedicated to creating an AI ecosystem with innovation and solutions to upgrade the industries.
Besides from its technological strengths, SenseTime has achieved commercial successes. It has powered many industries such as finance, security, smart phone, mobile Internet, and automobile with core computer vision technologies including face recognition, video analysis, character recognition, and autonomous driving.
SenseTime boasts more than 400 leading customers and strategic partners including Qualcomm, NVIDIA, China Mobile, UnionPay, HNA, Huawei, Xiaomi, OPPO, vivo, Weibo, and iFLYTEK.
With offices in Beijing, Shenzhen, Shanghai, Chengdu, Hangzhou, Hong Kong, Kyoto, and Tokyo, SenseTime has attracted top talents around the world to build a world-leading technology company – from China, for the world.
For more information, visit SenseTime's website.