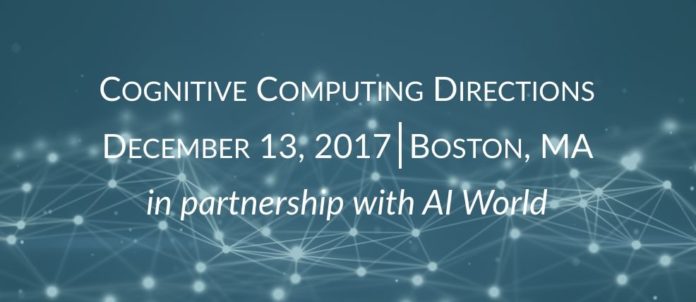 Cognitive Computing Consortium Holds "Directions in Cognitive" Program at AI World 2017 Conference in Boston
Thought Leaders in AI and Cognitive Computing to Address the Latest Trends and Case Examples at New AI World Conference Program
Westboro, MA – November 14, 2017 – Cognitive Computing Consortium, a Boston-based think tank that supports a community of innovation on issues involving machine intelligence, will produce a full-day program called Directions in Cognitive to be held on Wednesday, December 13th at the AI World 2017 conference in Boston, Mass. Open to all AI World attendees and Consortium members with a conference VIP pass, Directions in Cognitive will deliver a wide-ranging set of keynotes and sessions devoted to practical challenges for experienced AI implementers as well as on tools and frameworks to help guide practitioners engaged in cognitive application development.
Directions in Cognitive will focus on the issues facing Cognitive Computing Consortium members, and other AI and cognitive computing applications professionals today, as they scope, design, build, and revise production applications for the enterprise," said Hadley Reynolds, Managing Director, Cognitive Computing Consortium and Directions in Cognitive Chairperson. "The program presents the experience of practitioners working with applications in the field, as well as research-based frameworks for characterizing cognitive applications and understanding cognitive work profiles, skills, attributes, and knowledge. We present emerging technologies, the state of the market, and bring focus to important challenges in the area of ethical guidelines for these new applications."
Jana Eggers, CEO of Nara Logics, will provide the opening Keynote at Directions in Cognitive. Additional speakers to participate in the program include:
Ronald Weissman, Chair of the Software Industry Group of the Band of Angels
David Weinberger, Sr. Researcher, Berkman Klein Center for Internet & Society, Harvard University
Leslie Owens, Executive Director, MIT-Sloan School Center for Information Systems Research
Clare Gillan, Lecturer, Babson College
Ganesan Shankar, Prof. Babson College – Technology, Operations, and Information Management
Finale Doshi-Velez, Asst. Professor of Computer Science, Harvard University
Larry Todd Wilson, Founder & Director, Knowledge Harvesting, Inc.
Gabi Zijderveld, CMO, Affectiva
Daniel Donohue, Partner, Keystone Strategies
Jeff Fried, CTO, BA-Insight
Tyler Schultz, VP, Veritone
Seth Earley, CEO, Earley Information Science
Gauthier Robe, VP, Coveo
Daniel Mayer, CEO, NA Expert Systems
For further information and to view the Directions in Cognitive Conference Agenda, please visit https://aiworld.com/ccc-event/ To register, visit: https://aiworld.com/live-registration/. For Directions in Cognitive, use code AIW200CCC.
About AI World
AI World Conference and Expo is focused on the business and technology of artificial intelligence in the enterprise. AI World 2017 will be held in Boston, MA on December 11-13. The three-day conference and expo is designed for business and technology executives who want to learn about the state-of-the-practice of AI in the enterprise. AI World has become is the "must attend" event for enterprise executives and decision makers from Global 2000 organizations and business leaders from across the entire artificial intelligence and machine learning ecosystem. AI World 2016 was the largest independent enterprise AI, hosting more than 2,200 business executives, 110+ speakers and 65+ sponsors and exhibitors. To learn more, please visit www.aiworld.com.
About the Cognitive Computing Consortium
The Cognitive Computing Consortium is a membership consortium of private and public organizations and individuals whose mission is to facilitate the spread of knowledge and innovation in cognitive computing. The Consortium conducts research on the technical, managerial, and organizational aspects of cognitive computing. It acts as an advocate and central resource for cognitive computing thought leadership and education. It provides an impartial discussion forum for topics and issues related to cognitive computing. To learn more, please visit www.cognitivecomputingconsortium.com.
Media Contacts:
Katerina Kilmonis
AI World Marketing
kk@aiworld.com
+1 (508) 645-6978
Peter Gorman
For Cognitive Computing Consortium
Black Rocket Consulting, LLC.
pgorman@blackrocketconsulting.com
+1 (617) 669-4329