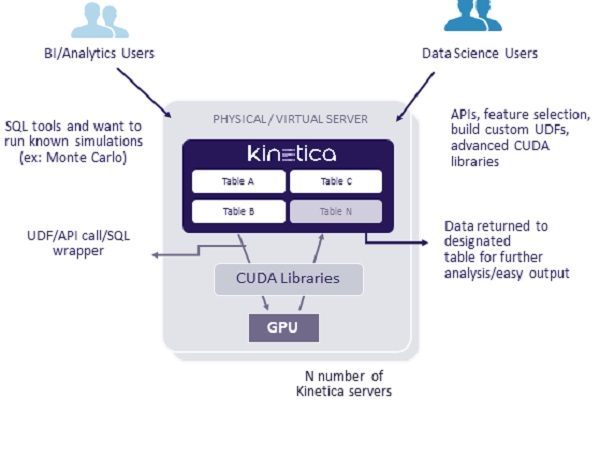 Kinetica, provider of a GPU-accelerated relational database, has closed $50-million in Series A financing, co-led by Canvas Ventures and Meritech Capital Partners, with participation from new investor Citi Ventures and existing investor Ray Lane of GreatPoint Ventures.
"We invested because we believe in the promise of Kinetica in the commercial world," said Gary Little, partner at Canvas Ventures. "But understanding Kinetica's US-intelligence community roots will shed light on how ground-breaking their technology truly is. In 2009, Kinetica co-founders, Amit Vij and Nima Negahban, were hired by the United States Army Intelligence and Security Command and the National Security Agency (NSA) to create a system to track and capture terrorists in real time. No database existed in the market that could meet the Army's demands. So they built a new class of enterprise-grade SQL database from the ground up, powered by GPUs, that could provide instant results and the ability to visualize insights across massive, streaming datasets. Today, the company is on their 6th product release with customers such as the United States Postal Service and major Fortune 500 brand names. This is no ordinary Series A company."
Asked to further describe how Kinetica was used by the US Army and the NSA, Kinetica Co-Founder and CEO Amit Vij said: "At the time, our database ingested data from more than 200 different streaming big data feeds. This included drones that tracked every asset that moved at 30 frames per second; mobile devices that emitted their metadata every few seconds; social media like Twitter and Facebook; and cyber security data. We were evaluating billions of signals to find that needle in the haystack."
"Now imagine this powerful analytics database at work in banks, oil and gas, automotive, healthcare, telecom, airline, logistics and delivery, and retail and ecommerce companies," said Paul Madera, partner at Meritech Capital Partners. "These and other types of enterprises will profit from making rapid decisions using the totality of their data – including hundreds of terabytes of streaming and unstructured data."
Kinetica customers include GlaxoSmithKline, PG&E, US Postal Service and IronNet Cybersecurity. Kinetica estimates their total addressable market to be approximately $30 billion using Gartner's 2017 Q1 forecast for enterprise software..
"Our goal is to extend the use of our product at Fortune 2000 companies and to other businesses that would like to glean real-time insights in the fastest possible way from the data sources they have today and any kind of data in the future – including data generated from sensors in cars, appliances, banking systems, medical devices, and data sources not yet imagined," said Amit Vij.
GPU-accelerated computing is the use of a graphics processing unit (GPU) together with a CPU to run applications much faster. GPU computing is well suited to performing repeated, similar instructions massively in parallel. This makes GPUs ideal for the compute-intensive workloads required of large data sets. In the case of Kinetica, the software application being accelerated by GPUs is a database. Legacy databases, like Oracle and SAP HANA, do not run on GPUs.
For more information, go to Kinetica.com.