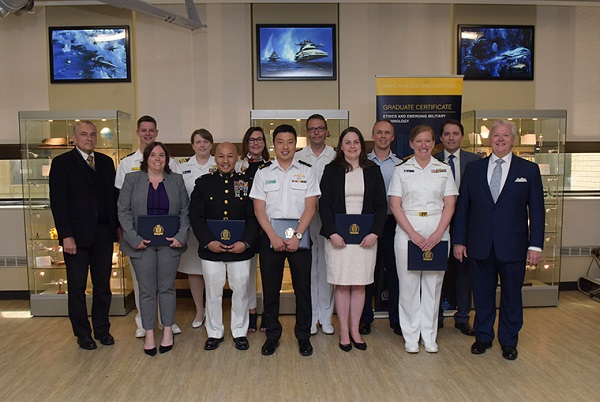 Ten U.S. Naval War College students were awarded graduate certificates in the Ethics and Emerging Military Technology program on Monday, June 10.
This program, which bestowed its first certificates in the spring of 2017, is a specialized track of study that focuses on the ethical complexities introduced by new technology.
Students take four elective classes in the program and write a professional research paper on the intersection of ethics and emerging technologies, under the mentorship of a Naval War College professor.
"It's heartwarming for us, when we started this program just three years ago, to see that ethics continues to have a rising visibility within the military in terms of these technologies," Lewis Duncan, acting Naval War College president, said at the certificate ceremony. "They have profound consequence in the lives that we will lead in the future, for ourselves and our families and children."
Associate Dean of Academics Tim Schultz told the students that the burden of an extra elective and the work required for a 50- to 60-page research paper is worth it.
"This is a one-of-a-kind program in all of professional military education," Schultz said at the ceremony. "Like most good things that are worth struggling for, this is something that makes you better, and it's going to make you better as thought leaders as we move into the future."
Those who earned certificates are Maj. Bertram Chun Hou Ang, Republic of Singapore Navy; Maj. Clayton Aune, U.S. Air Force; Lt. Cmdr. Andrew M. Coffin, U.S. Navy; Lt. Col. Jackson Doan, U.S. Marine Corps; Cmdr. Hans Geissler, German Navy; Ashley Hendrix-Semenova, National Geospatial-Intelligence Agency; Mary J. Hubbard, Department of Defense; Cmdr. Christi S. Montgomery, U.S. Navy; Cmdr. Jessica Lynn Pyle, U.S. Navy; and Brooke A. Samples, National Nuclear Security Administration, Department of Energy.
Their papers included topics such as "Building the Hyper-Capable Operator: Should the Military Enhance Its Special Operations Warriors?" and "Highly Illogical: A Case Against the Weaponization of Space."
Associate professor Tom Creely launched the graduate certificate program soon after joining the faculty and is now its director. A retired Navy chaplain, Creely's doctorate degree is in humanities with a focus in ethics and technology.
"Foreseeing the future and the power of disruptive technologies, I thought we needed to do more than just mention it in classes, especially the ethics of technology," Creely said about the program's inception.
About 25 to 30 students apply for the program, and 10 are selected per year, Creely said. This year, for the first time, two international students – from Germany and Singapore – earned certificates. A total of 23 students have received certificates since 2017.
Cmdr. Jessica Lynn Pyle was in the graduating class on June 10. As a Navy lawyer, Pyle is in the business of counseling people about ethics. She said she was drawn to the subject matter for that reason.
"The program gives you a deeper, richer sense of what it means to face ethical dilemmas, and not just resolve them within yourself but resolve them within an organization and culture with values of their own," Pyle said.
Civilian Brooke Samples, who works for the Department of Energy's National Nuclear Security Administration, said her takeaway from the curriculum is that these are today's issues, not something to only worry about for the future.
"Before I got here, I had an idea that things like artificial intelligence and these cutting-edge technologies – that's 20 years from now," Samples said. "Now I have the appreciation that, no, we're already dealing with that. Decisions that are being made now are going to have repercussions on how this technology is used going forward."
These students will also receive Naval War College master's degrees in national security and strategic studies or defense and strategic studies at the college's June graduation ceremony.
See the press release at the US Naval War College site.