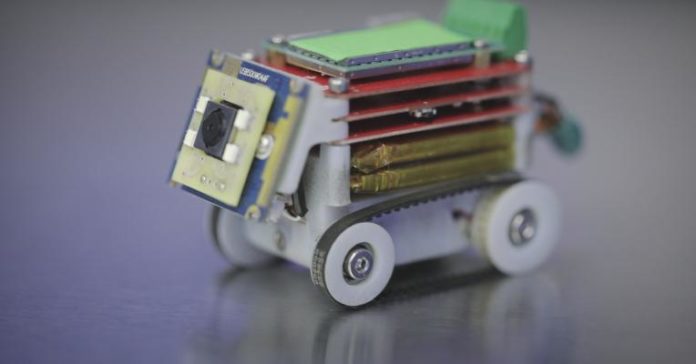 Imagine the difficulty of trying to inspect a working gas turbine. There is not only intense heat, blades are constantly spinning, making getting a camera inside to examine the operating turbine a huge challenge. A team at the GE Global Research Center in Niskayuna, New York has been working on several small experimental robots designed to solve some of these issues.
Traditionally, engineers have dropped a camera called a borescope into a predesigned hole in the turbine shell to get a view of the turbine blades as they turn inside, but this method has many limitations. "Using the traditional method makes it challenging to navigate through to all points of the turbine while keeping the camera oriented in the correct direction to inspect each component," Kori Macdonald, a robotics engineer at the GE Global Research Center explained to TechCrunch.
What's more, when the engineers locate an issue with the borescope such as a blemish in the protective coating on a blade, there is no way make a repair without opening the turbine. This means shutting it down, opening it up, locating the blade in question and undertaking the repair, a process that could take up to 12 hours, during which the turbine isn't operating.
Finding a better way
A team of scientists and engineers went to work on the problem and came up with a few creative solutions as part of 'The Turbine Surgeon' project. They began by developing a small flexible robot prototype, designed to move between the blades as they turn, giving engineers a much more comprehensive view of what was going on inside the turbine than the borescope.
The prototype they showed us was about the size of a PC card and was equipped with extremely bright LED lights and a small high-resolution pivoting camera. Operators can move the robot between the blades while operating the camera using software they developed as part of the project. This approach enables them to get a variety of views and get a better idea of issues on a particular blade.
Part of the reason this design was even possible is the miniaturization of components along with the computing power now available on small chips. When you combine that with more efficient LED lights and high-resolution cameras, the team could create a robot that could operate for a full inspection without running out of battery power.
Read the source article at TechCrunch.