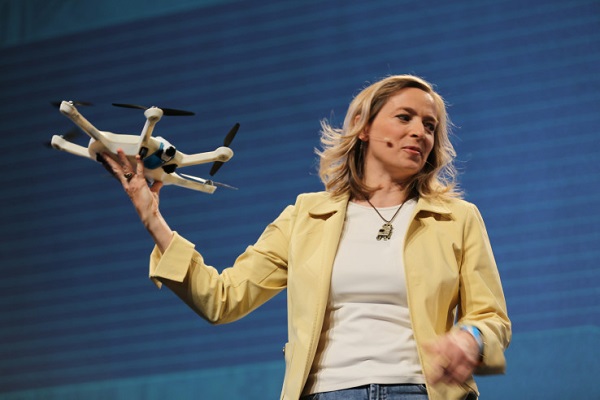 "If nobody else is going to invent a dishwashing machine, I'll do it myself." That proclamation from Ohioan engineer Josephine Cochrane — who was, incidentally, granddaughter of steamboat inventor John Fitch — started a revolution in homemaking that 60-some years in the making resulted in the popularization of the dishwasher.
Cochrane filed a patent in 1886 for the mechanical dishwasher and set up a factory to produce the machines. The Hobart Corporation later bought her business and went on to release the dishwashers under a spin-off brand, appliance giant KitchenAid. It may have taken more than 60 years, but by the 1970s, the dishwasher had become one of the most common home appliances.
Fast-forward a century and the "let a robot do your dirty work" dream has stood the test of time. Yet household penetration beyond dishwashing and laundry machines has been slow. In an interview for Flux, I sat down with today's modern Josephine Cochrane, Helen Greiner, the co-founder of iRobot.
The company behind the first automated and commercially successful home vacuum, the Roomba, iRobot's appliance hit the market in 2002 and has now sold more than 16 million units worldwide. Greiner now heads the drone company CyPhy Works.
We got into how founders should think about timing a market, navigating user adoption cycles and iterating on product. In 2008, Helen made the jump from terrestrial to aerial robotics, founding drone company CyPhy Works to focus on applications including public safety, construction and agriculture. Helen also shared her thoughts on why the sky is a natural superhighway for drone delivery, how to get more women into technology, her love of Star Wars and what happened when she tried to fly her drone on the White House lawn.
MLG: What got you interested in robotics  —  has this been a lifelong passion?
HG: I did see Star Wars when I was 11 and R2-D2, he's my muse. He had an agenda. He was one of the main characters. He had a personality and he was really more than a machine. I've always wanted to build devices that are machines but also more than machines. And I could see the connection between a very early computer that my dad brought home  —  a TRS-80 from RadioShack  —  and robots. So I went to MIT to learn how to build robots. Although I learned a lot of wonderful things there, they didn't really know how to build robots at that time. At least not commercially viable robots.
Read the source article at TechCrunch.