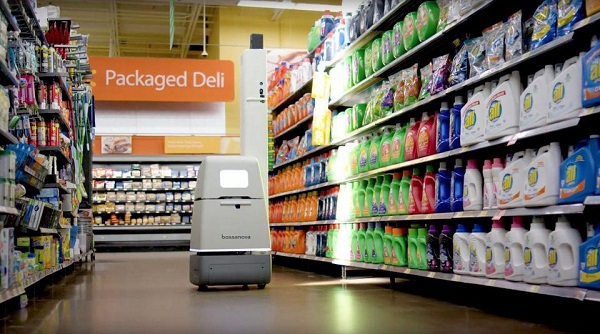 A new tech trend has emerged at the world's largest retailer, as Walmart brings on board thousands of robots in nearly 5,000 of its 11,348  stores. According to CNN Business, these robots will be scrubbing floors, scanning boxes, unloading trucks and tracking shelf inventory at mostly domestic U.S. locations.
Robots will replace lower-level jobs—serving in janitorial functions as well as performing basic inventory work—in order to manage rising costs. A new robot unloader has already been used on the docks in hundreds of stores, pulling boxes from delivery trucks while automatically scanning and sorting merchandise. The unloader will be deployed at over 1,100 retail locations in the near future.
"Automating certain tasks," according to Walmart CEO, Doug McMillon on CNN, "gives associates more time to do work they find fulfilling and to interact with customers." Continuing this logic, the retailer points to robots as a source of greater efficiency, increased sales and reduced employee turnover.
Tests in dozens of markets and hundreds of stores have proven the effectiveness of the robots, but how will replacing people with machines actually reduce turnover? Perhaps if you are not hiring people, they can't quit… so turnover is reduced?
That assertion remains to be seen, but there does seem to be powerful support for driving greater profitability via robotics.
"As we evolve, there are certain jobs that will go away," said Michael Dastugue, Walmart U.S. CFO. By sharing this in a March analyst call, Dastugue may have unintentionally nominated himself for the understatement of the year. The message is clear: robots continue to be a viable resource for replacing lower-level jobs. The company states that this investment will allow the human workers to execute more varied tasks—as the robots take on the work that humans don't want to do anyway. (For more from Forbes on the topic of employment risk due to automation, check out "Should We Be Scared of Our Robotic Colleagues?")
Profit vs. People
It's no secret that, in 2018, over a dozen major retailers filed for bankruptcy.  Sears, Diesel, Beauty Brands, Mattress Firm and many others are restructuring—or disappearing—due to bankruptcy.
Walmart's obligation to its people remains strong—if, by "people" we mean "shareholders." Business considerations are behind the move to utilize new technology, and employees will have to adapt. Consider these startling statistics in a recent study commissioned by Bossa Nova Robotics. (Full disclosure: Bossa Nova is the manufacturer of the inventory-assessment robots at Walmart, and others. With over $70 million in capital raised, this Carnegie-Mellon powered startup is revolutionizing retail with robots, according to sources at CNBC.)
It's In Inventory, Right Now
Based on feedback from 100 retail executives, all from companies with more than $500 million in revenue, 99% reported some kind of inventory problem. Additionally, the survey revealed:
87% of respondents said inaccurate inventories are to blame for more lost revenue than stealing
92% said their stores spend more time identifying inventory issues than they do implementing solutions
81% said they feel their stores are only keeping pace or actually falling behind technologically, despite the availability of new technologies
And perhaps most compelling:
76% said the introduction of robots in stores would improve employee productivity
Read the source article in Forbes.