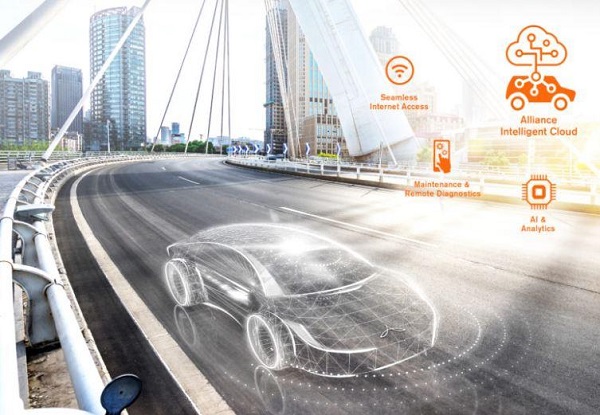 By AI Trends Staff
Connected-car platforms are being advanced by governments and through technology company partnerships, in efforts to improve roadway safety and mobility and to build the infrastructure to support autonomous, self-driving cars. 
The Utah Department of Transportation has recently announced it is building a transportation data network using information from the emerging vehicle-to-everything, or V2X, environments, according to an account in GCN. 
UDOT is partnering with Panasonic on the smart roadway network. The $50 million agreement  includes the installation of intelligent sensors along sections of Utah highways that will collect and transmit data to vehicle-mounted equipment at speeds of up to 10 times per second. The data will be shared with a central cloud-based platform that monitors the information from the sensor-vehicle network and automatically generates alerts to vehicles, UDOT staff  and infrastructure components such as traffic signals or variable-message signs.
Panasonic's CIRRUS connected-vehicle data platform was launched in January to provide cloud analytics data processing, real-time analyses and transmission and data storage capabilities. It supports data sharing among transportation departments, network operations centers and vehicle information systems. It also makes the data available to third-party developers who can build applications to "solve for things we haven't even imagined yet," said Kellen Pucher, director of strategic initiatives for connected vehicles at Panasonic.
The foundation of CIRRUS is an internet-of-things application program interface layer that lets departments use V2X as a data source for sensing roadway conditions in real time. For instance, onboard units may sense slight tire slippage as roads freeze even before drivers notice.
In Utah, the first phase of the new system will be installed at 40 sites and in 30 state-owned vehicles. In the future, it will expand to 220 sites and up to 2,000 vehicles.
The state was an ideal candidate for this project because it's home to the country's first operational connected vehicle corridor. Buses equipped with special radios communicate to traffic signals, and if they're running late, the signal can extend the time the light is green.
"Embracing and developing this emerging technology has the potential to make our roads safer, reduce congestion, and help the environment through lower emissions," UDOT Executive Director Carlos Braceras said.
Automakers Pooling Resources
Meanwhile, carmakers are forming alliances, pooling resources to get to market faster. BMW and Mercedes announced a partnership on autonomous cars in February; Volkswagen and Ford announced a similar agreement in March. 
All of them will need the connected car network to make it work. This informs driver-assisted features like automatic braking, advanced cruise control and lane assist.
According to an account in Forbes, Microsoft is working hard to build the connected car platform of choice in the industry. Renault Nissan became the first to join in January 2017. Volkswagen signed in October 2018. Microsoft has cloud solutions relationships with Volvo, BMW, Toyota and Ford.
This opportunity is seen as huge. Boston Consulting Group estimates the market for comprehensive vehicle connectivity will be $159 billion by 2020. The cloud solutions marketplace is expected to reach $66 billion by 2022.
As recently reported in ZDNet, Renault-Nissan-Mitsubishi alliance recently unveiled the production release of what it calls the Alliance Intelligent Cloud." The goal is for Renault, Nissan and Mitsubishi Motors to be able to deliver cloud-connected services in cars sold in nearly all 200 markets served by those companies. These cars will be "the first vehicles powered by the Microsoft Connected Vehicle Platform available to consumers at scale," according to Microsoft. 
The first cars that will feature Alliance Intelligent Cloud technology will be the new Renault Clio in Europe and selected Nissan Leaf models sold in Japan and Europe, according to Microsoft. According to Renault-Nissan-Mitsubishi, cars using the Alliance Intelligent Cloud should be available "later this year."
Microsoft isn't the only tech vendor with connected-vehicle ties to Renault-Nissan-Mitsubishi. Last year, the Alliance signed a multi-year deal with Google to produce vehicles with Android-powered infotainment systems as part of a wider strategy to equip new vehicles with a wider array of connected systems. 
The rollout of vehicles running Android infotainment systems is expected to begin in 2021 and will enable drivers and passengers to directly use Google Maps from the vehicle, run automotive apps from the Google Play store and use the voice-controlled audio assistant to answer texts and calls, find information and manage different functions within the vehicle. These services will be integrated with the Alliance Intelligent Cloud.