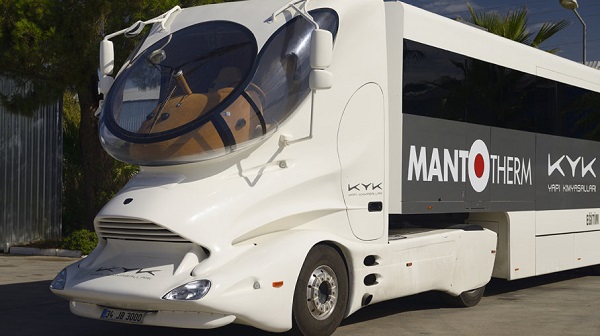 If you saw the recent X-Men movie "Logan," you probably remember one startling scene that showed driverless robotic trucks hurtling down the highway in the year 2029.
That futuristic vision isn't here yet, and experts say there are significant technological and regulatory challenges that would have to be overcome before autonomous trucks dominate our highways. But already, truck manufacturers have been making significant strides toward automating much of the work human truck drivers currently perform — and those advances eventually may lead to future fleets of big rigs that transport their loads safely without a person behind the wheel.
New Tech on the Road
Vehicle manufacturer Daimler tested an experimental big rig in Nevada in 2015, but the company isn't going to put such autonomous vehicles (AVs) into production any time soon.
"An AV requires significant system redundancies in the event of a component failure, a significant increase in sensing to provide an accurate 360-degree view of the environment — particularly challenging with a trailer — and a significant increase in computational power and artificial intelligence," says Derek Rotz, director of advanced engineering for Daimler Trucks North America, via email. "In short, we see significant development hurdles to be autonomous, which adds cost and complexity to the vehicle."
In a 2016 corporate blog post on the future of autonomous trucks, Scott Perry, chief technology and procurement officer for the commercial trucking giant Ryder, wrote that "increased road safety regulations have played a large role in driving advancements in onboard vehicle technologies."
In an interview, he says that the industry already is outfitting human-driven trucks with technology such as adaptive cruise control, forward-looking radar, and collision-avoidance and lane-departure warning systems, in an effort to make trucks safer.
Minding the Gap
Another promising automation advance that could help human truck drivers is platooning technology, which enables trucks to communicate with each other and follow one another at distances close enough to reduce air drag and boost fuel efficiency.
"Collapsing the following distance from 150 to 50 feet (46 meters to 15 meters) would improve the fuel economy of the lead vehicle by 4 percent, and the trailing vehicle by 10 percent," Perry says. If a car got between them, the trucks' platooning technology automatically would adapt and lengthen their following distance, he says.
Read the source article at howstuffworks.com.