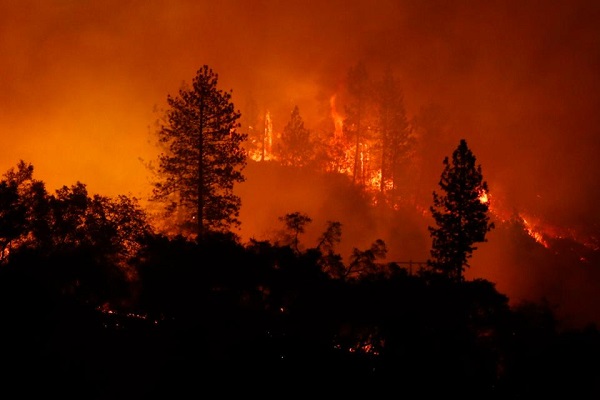 California's hillsides are still green, thanks to a surplus of rain in the past few months, but the state is already exhorting homeowners to build 100 feet of "defensible space" around their homes, an ominous warning of the coming wildfire season. Cape Analytics, a data startup, wants to do one better, using images from the air and data analytics to identify homes most at risk from a fast-moving wildfire.
The Mountain View, California-based company said Wednesday that it is releasing a new product that makes use of its machine learning tools for aerial imagery to assess wildfire risks to people's homes. The primary customer for the product is insurance companies, who can use the tools to assess risk and notify homeowners if that risk can be mitigated.
Wildfires are a big risk to property, particularly in California, where in 2018 some of the state's most destructive fires on record destroyed over 25,000 buildings and resulted in nearly 100 deaths, according to the Insurance Information Institute. Economic losses from wildfires are in the billions, with insured losses in California alone reaching over $9 billion in 2019.  One key way that homeowners can reduce the risk, according to FEMA, is to ensure that homes within a wildfire zone have a minimal amount of vegetation within about 30 feet.
This is where Cape Analytics comes in. Using images captured from airplanes, its machine learning analytics are able to tell how close risky vegetation is to a home. That information can in turn be used by insurance companies in their models to get both a risk assessment for a particular property and for the region as a whole.
According to the company, its tools are able to determine the presence of vegetation to a resolution of 6 centimeters. The company claims its tools can also determine the density of that vegetation, enabling them to figure out how much the vegetation in a given neighborhood could fuel the growth of a wildfire.
"We want to streamline the process for our customers so they can be more strategic in assessing risk and determining if mitigations exist," said Kevin Van Leer, manager of client solutions at Cape. "We can help insurers work with customers to develop mitigations that reduce the risk to their property.
Cape Analytics was founded in 2014, with an eye to using big data analytics to crunch the massive amounts of aerial imagery being generated every day. Its first product was an API pipeline that fed aerial data to insurance companies about the roofs of houses, assessing both the conditions of those roofs and noting other risks to them such as overhanging tree branches. Initially focused on Florida, that product has since spread to cover most of the United States.
Last June, the company raised $17 million in a Series B round from the likes of both tradition VC firms like Promus Ventures and Data Collective as well as insurance companies like The Hartford and The Cincinnati Insurance Co., bringing its total funding to $31 million. One of the goals for the funding round was to build out new products with its data analytics tools. With this new wildfires tool, the company is taking its first steps in utilizing its AI expertise to expand to new markets.
Read the source article in Forbes.